MWW Ongoing
If you've ever wished for a way to continue growing with your writing all year long, from the comfort of your home, now you can! MWW Ongoing is a series of courses taught by award-winning writing instructors, and everything happens online. From the convenience of your computer, on your own time schedule, you can participate in classes to take your writing to the next level.
Check out our newest MWW Ongoing course taught by New York Times bestselling author Shirley Jump.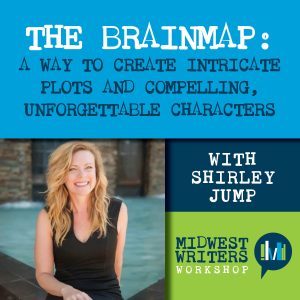 The Brainmap: A way to create intricate plots and compelling, unforgettable characters
Shirley Jump's The Brainmap Technique develops fully formed characters before a single word is written, resulting in a stronger, more powerful–and more emotional story. This 4-week course starts Monday, Sept. 4, with each unit available on the following Mondays (Sept 11, 18, 25). Cost: $75.
Who This Course Will Help
This course is for writers who are looking for a way to plot a unique, character-driven novel. This course will cover all the pre-work needed to develop a compelling, layered character with a full history. From that, the plot will develop, thus building an intriguing novel with a strong emotional hook for the reader.
Editors love books that are character driven and have layered plots. The Brainmap Technique develops fully formed characters before a single word is written, resulting in a stronger, more powerful–and more emotional story. If you're stuck in your writing, needing inspiration or just want to learn more about developing characters and developing a multi-layered plot, you'll get the boost you need for this class with this technique. By the end of this workshop, participants will have everything they need to write a character-based plot that has emotional depth, character-driven conflict, and memorable page-turning twists.
What you will learn
How to develop a character's past, family relationships and motivations
Use this to develop a character-based plot
An in-depth analysis of your character's behavior and choices
A richer, more emotionally based book
The course is broken down into four units. Each unit is accompanied by several handouts that build on the one before. You can start using the information immediately for your current work. But you can start when you are ready. The material will be available to you until October 31. Questions about the material and how it applies to your story will be answered within the private Facebook group.
Unit One will be about getting the basics down. We will start with the basics of who your character is, based on their dominant impression, then why they are in that career. How their education impacted that choice and where it has brought them to at the start of your novel.
Basics of the Brainmap
Brainmap Center
Brainmap Spoke One
Unit Two will take the Brainmap to a deeper level. We will discuss the multiple layers of family relationships and look at how those have impacted your character. This particular section of the brainmap is vital in shaping your character.
Brainmap Spoke Two
Brainmap Spoke Three
Brainmap Example
Unit Three will explore past relationships and their impact on your character. What type of person they choose, how it impacted their life, and where that has brought them now. For those writing novels with a romance thread, this section will form the basis of the romantic conflict. We will also discuss the last two spokes of the brainmap to create a fully-fleshed out character.
Brainmap Spoke Four
Brainmap Spoke Five and Six
Unit Four will pull all those spokes together, developing a plot based on the character, one that derives from their weaknesses, strengths and greatest nightmare. This will allow the student to write a richer novel at the completion of the course.
Weaknesses and Strengths
Worst Nightmare
About the Instructor
New York Times and USA Today bestselling author Shirley Jump spends her days writing romance so she can avoid the towering stack of dirty dishes, eat copious amounts of chocolate and reward herself with trips to the mall. She's published more than 60 books in 24 countries. Look for her all-new novella in the anthology ASK ME WHY (with Marie Force, Virginia Kantra and Jodi Thomas), as well as her Sweet and Savory Romance series, including the USA Today bestselling book, THE BRIDE WORE CHOCOLATE, and her Fortune's Island series, starting with AND THEN FOREVER. Visit her website at www.ShirleyJump.com for author news and a booklist, and follow her on Facebook at www.Facebook.com/shirleyjump.author for giveaways and deep discussions about important things like chocolate and shoes.
Register Today!
Click HERE to register.
And be part of the community in the private Facebook Group!