Your evaluations, emails, tweets, posts have been read and tallied. The results are in!
The determination: gold medal for MWW16!
Sure, we weren't perfect. We had a few deductions to our final score (parking, construction, A/C), but we received more high scores than low. And for our first year in a new facility, we were darn pleased that participants and faculty had a great time. The high marks included: our "killer deal," 10+ for our social media tutoring, our spiral bound book of session notes, and 10+10 for our unique "Buttonhole the Experts" activity.
Comments in the hallways included: "I loved the diversity of topics and speakers/presenters." "I met life-long friends here!" "AMAZING conference! Life-changing! I plan to be back!"
From July 21-23, a record-breaking 280 people who are passionate about writing — participants, faculty, interns, MWW staff — occupied the three floors of our new location at the L.A. Pittenger Student Center to listen, talk, write, share, pitch, question, eat, drink, laugh, challenge, commiserate — and, yes, rejoice.
From the ten intensive sessions of Part I to the 45 sessions of Part II, MWW16 offered participants opportunities to "find their tribe" and enjoy a genuine community which encouraged them to make connections and get to the next step in their writing. And what other writers' conference provides a chance to bowl with a literary agent (or a T-Rex) and a massage therapist to relax you before your pitch?
Something special marked this 43rd annual workshop and these are some of the comments which pointed in this direction.
From the participants:
 "Thank you for helping me to pursue my life-long dream! You guys rock! You're amazing!"

"In a solitary profession like writing, it's sometimes difficult to connect with peers – or even realize that you have any. At MWW, I realized that the literary world is both large and small: there are many of us who come from across the country, but we are a tight knit group, bound by our mutual respect, appreciation, and encouragement of one another. I was expecting a community of writers at this conference – but I was not met. I was welcomed. – Valerie Weingart

"It was worth the trip from North Carolina! I'm going home with information and inspiration to aid my writing." – Rebecca Paynter

"This was my first writers' conference. MWW truly delivered on their promises. I  feel much more prepared to begin a writing career, and the atmosphere was perfect for connecting with so many amazing writers, authors, agents, and other members of the writing community. I am excited already for MWW 2017!" – Mary Rose Kreger

"Great content. Great community." – Bo Thunboe

"Writing can be a lonely pursuit. The opportunity to find your tribe and make connections with other introverts tied to their computers was wonderful." – Mary Robertson

"When you are stuck and alone in your writing journey, MWW will give you the kick in the pants you need. Stop wallowing and come find your people." – Elizabeth Newman

"MWW is so inclusive of all writers' wants and needs — topics, events, activities. This has been the best conference ever!" – Doris Smith

"As a young writer, this conference provided access to a variety of topics. I met other writers who immediately treated me with kindness and made me hopeful." – Sarah Salow
From the faculty:
"Midwest Writers Workshop is a very special place for writers. I've been speaking and attending its sessions for nearly 15 years, and the sense of community and support is outstanding. It has played a role in launching numerous successful author careers-unsurprising, since it works so thoughtfully to fulfill its mission of helping writers flourish and be their best selves." – Jane Friedman

"I'll go just about anywhere to talk about the agony and ecstasy of writing fiction, but I've found the standard of excellence against which all writers conferences will be measured: the Midwest Writers Workshop in the Ball State University campus in Muncie, Indiana. Not only is the hospitality without peer, the staff is professional, the participants lively and whip-smart, the faculty engaging and edifying. Wanna believe that people still love to write and read? Come to Muncie!" – Tom Williams

"Please, please invite me to speak every year from now until infinity." – Jen Malone

"Midwest Writers Workshop is the best workshop in the Midwest for writers no matter whether they are beginners or seasoned pros. The success stories are countless, and there's a reason why.  This workshop is all about the writer from the moment the first sentence is written until the last goodbye is said.  It's a five star event that prepares great writers to go out into the world and share their stories at the highest level.  I count this workshop as one of the main reasons that I have published twelve novels." – Larry Sweazy

"It was a pleasure. And I already got a client out of it! I signed Jessica Rauh who I met in a pitch session!" – Jim McCarthy
Congratulations to the 2016 Manny Award winners! (and thanks to sponsor Matthew V. Clemens and Robin Vincent Publishing)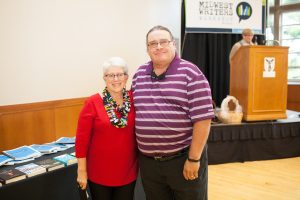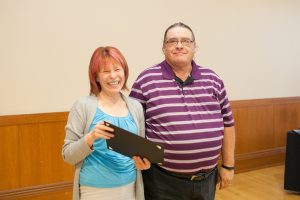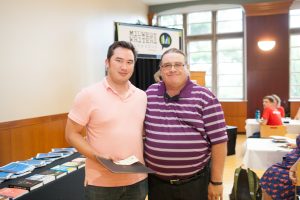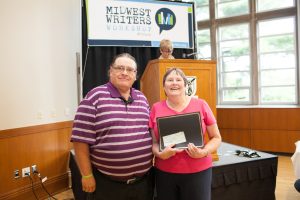 Irene Fridsma – Poetry
Paula Mikrut – Nonfiction
Victor Suthammanont – Long Fiction
Kathryn Page Camp – Short Fiction & winner of the Top Prize L. Karl Largent Award
***
MWW16 may be in our rear view mirrors, but a lot of what we experienced and learned will always remain. We invite you to view our  Photo Gallery and tag yourself on our Facebook Page, which are sure to bring back memories.
So we're patting ourselves on the back. And for just a while, basking in the bright light that was #mww16 before we move on to our 44th MWW, July 20-22, 2017.