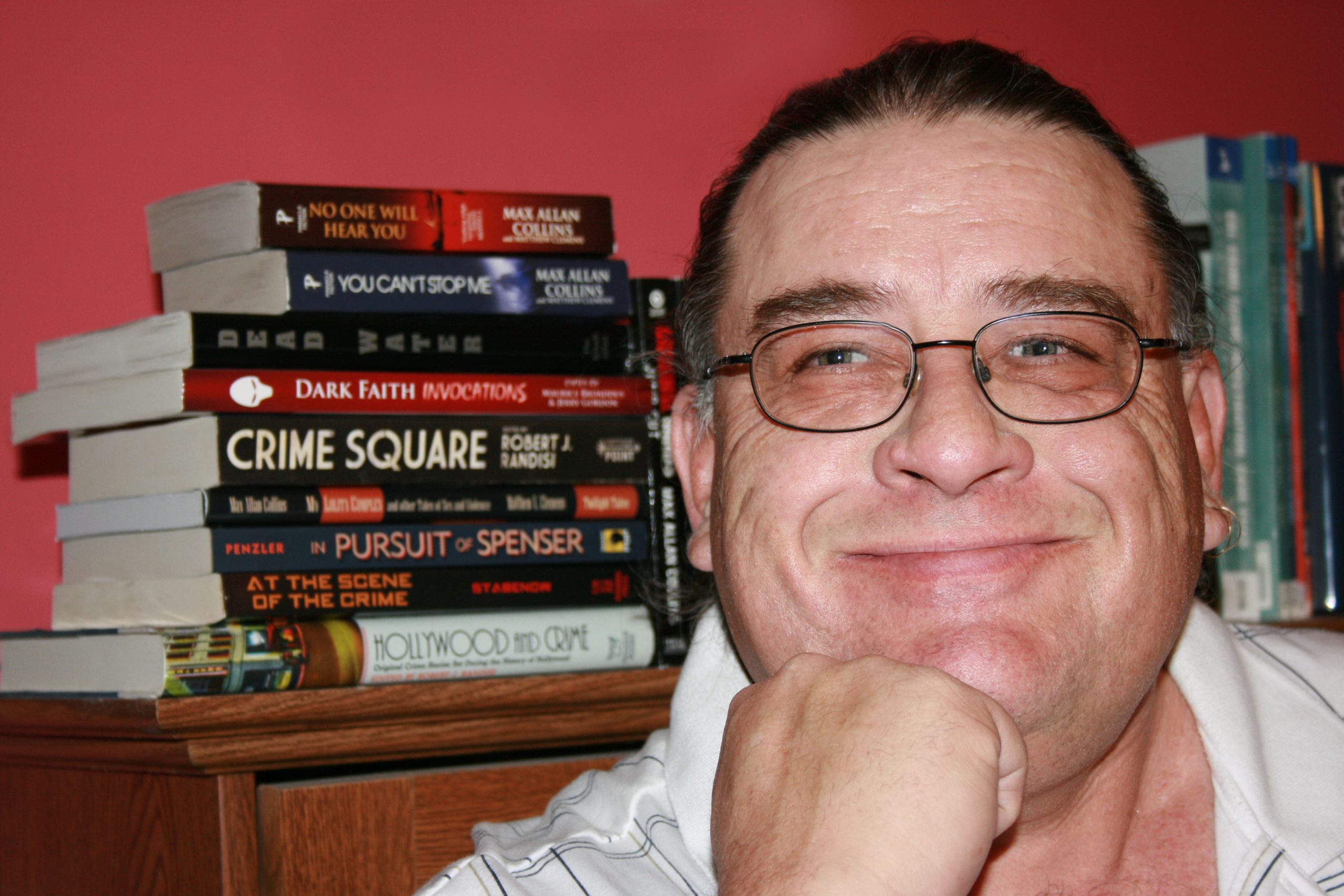 Long-time MWW attendee, faculty, and board member
Matthew V. Clemens
, with his collaborator, Max Allan Collins, has penned 17 TV tie-in novels including 
CSI: Crime Scene Investigation, CSI: Miami, Dark Angel, Bones,
 and 
Criminal Minds
. Twilight Tales published the pair's collected short stories in 
My Lolita Complex and Other Tales of Sex and Violence
. They also have authored thrillers —
You Can't Stop Me, No One Will Hear You, What Doesn't Kill Her
, and  
Supreme Justice
 for Thomas & Mercer. 
Fate of the Union
 was released in November 2015, and the next Reeder and Rogers thriller is due this year. A resident of Davenport, Iowa, Matthew can't quite recall if he first discovered MWW in 1990 or '91, but he's attended every conference since. Matthew's high regard and affection for MWW is mutual, and we look forward to welcoming him back to Muncie for his 25th (or is it his 26th?) conference this July.
MWW committee member Janis Thornton won the lottery, and her interview with Matthew follows.
MWW: You identify author R. Karl Largent (a frequent MWW faculty member until he died in 2003) as a writing mentor, who greatly influence your writing. (1) What other MWW faculty have made a positive impact on your career? (2) What were the most inspiring and helpful insights they taught you about writing? (3) How have you applied them to your writing over the years? (4) How do you incorporate those lessons into your workshops and pass them on to your attendees?
MC: 1) Holy frijoles, all of them. I've met amazing people, legends, at MWW since my first conference in 1991. Joyce Carol Oates, George Plimpton, William Brashler, Donald E. Westlake. So many people that I read when I was learning. More recently, I have learned a ton from John Gilstrap, William Kent Krueger, and Julie Hyzy, in particular. You never know enough about storytelling. I don't care who you are, and the moment you stop learning is the moment you begin to wither.
2) I have no real idea how to answer this. Every insight is helpful in some way. Karl taught me PYAITCAW — Plant Your Ass In The Chair And Write. That, more than any other tidbit is the one that has kept me going. I've learned to write tight, to get in and get out, and a thousand other bits that are all part of the process.
3) This is a weird one. Some lessons you know right away — okay, I can use that, I can do this step better because I've learned this tip. But I remember after my very first writers' conference that I went home annoyed, thinking I hadn't learned much. Then, about a month later, I wrote something that made me just stop as I realized that before the conference there was no way I could have written that piece, that paragraph, even that sentence.
 These tips we learn, they all go into the simmering soup that is our creative brain, and we may not even know they're there, like bay leaves, but sooner or later they surface and you understand how important these little bay leaves of knowledge are to what you're trying to accomplish. Not everything is cayenne pepper and immediately noticeable, but it is all part of the whole.
4) My first conference as a student was 1987, so almost thirty years of learning to tell a story as well as I can, the last twenty-four as a professional and I still feel there's so much to learn, but when I teach, I try to bring up as much of what I've learned as I can. You throw it all out there and some of it will stick in this person's brain, some totally different item will be important to someone else. It boils down to teachable moments and hearing the thing you need when you're ready to hear it. Writing is not a destination; it's a journey. The sooner you understand that, the easier it is to accept that not everything you do is perfect, or even good sometimes, but you keep at it, you keep learning, and you get better.
MWW: You met your favorite author, Max Allan Collins, at a 1987 writers' conference, when you were still a budding writer. At that event, Collins told you that your writing had possibilities. Just five years later, you sold your first short story and quit your day job. To top it off, before the decade ended, Collins had become your writing partner. So the burning question is: What did you do after 1987 to hone the writing skills that helped you land a partnership with Collins.
MC: I wrote every day. I read every day. Then eventually, I started working as a freelance editor. Along the way, I met Pat Gipple and we collaborated on Dead Water: The Klindt Affair. That was a true crime book about a murder in our hometown. In doing that, I met some police investigators who became friends. About that time, Max and I started writing short stories together and looking for something we could do in a novel format. When he was offered the tie-in gig doing novels for CSI: Crime Scene Investigation, he called me and asked if my cop contacts would help us get the forensics right. I sat down with a crime scene investigator I knew who fed us the correct science, and Max and I ended up doing ten novels, four graphic novels, and short stories for eight CSI jigsaw puzzles and even designed the story for a CSI: Miami computer game. Our collaboration has continued, and now I'm putting the finishing touches on my draft of our twenty-fourth novel.
MWW: When did fiction thrillers and true crime first draw you in as an author? What about them attracted you?
MC: I started reading mysteries in grade school. First, it was Donald Sobel's Encyclopedia Brown series, then I skipped the Hardy Boys and went straight into what has been a lifelong love of Sherlock Holmes. As both reader and writer, I am attracted to seeing justice meted out, and as I have gotten older, I'm interested in trying to understand what makes people capable of the cruelty we inflict on one another. There is always a conflict of some sort to be resolved, and honestly, I like to see the good guys win.
MWW: Just as your books thrill readers, whose books thrill you?
MC: So many authors, so many good books. Because of my schedule, I tend to read my friends. I love Gilstrap, Hyzy, and Krueger. I'm late to the party on people like Johnny Shaw, Sean Chercover, and Lou Berney, but they're all great, too. A lot of what I read is in my capacity as a consulting editor. Some of my clients are published, some not, but I read a lot of good books that way, too.
MWW: Your intensive workshop, "Making Your Thriller Thrilling," promises to reveal steps for writing a suspenseful thriller: characters, settings, building suspense, incorporating other ingredients such as humor. What do you want your attendees to know before they step into your classroom?
MC: You need to know we're going to write in class. Writers write. I'll talk a lot, but we learn this craft by doing, so we're going to spend time writing and talking about what we've written. I would love them to all take a couple of hours before class to watch "Jaws." That movie is a great tool for learning how to create suspense, and how to use humor to break tension.
MWW: And now, before we close, I'd like to offer you the last word — perhaps you'd like to share a tidbit of insight to put attendees at ease, or maybe you'd rather ramp up the tension with some intrigue. It's up to you, Matthew!
MC: Put my attendees at ease? I'm going to make someone cry. Happens every year. I have a streak to protect. Seriously, we're going to have fun, we're going to work hard, and if this works like it should, we will all learn something new. Even when leading a seminar, I learn something too. Storytelling is a vast art form, and there are as many ways to do it, as there are people who imagine telling a story. What I will do is pass along what I've learned, and what has kept me afloat in an ever-changing publishing world for the last quarter century.
*  *  *
Matthew's Part I session is:
Making Your Thriller Thrilling:  From inception to completion, we will touch on the steps to writing an exciting, suspenseful thriller.  Creating real-life characters, intriguing settings, building suspense, and even using humor. We will also discuss adding tools to your writer's toolbox that will allow you to succeed regardless of your chosen genre. Not just a lecture, we will do numerous writing exercises in a workshop setting. [NOTE: this session is 53% full! Register soon!]
His Part II sessions are:
Saturday, 1:15-2:15 p.m.– Panel on the crime writing business (also includes Lori Rader-Day, Larry D. Sweazy and D.E. Johnson)
Saturday, 2:30-3:30 p.m.– Master Class: Nuts And Bolts: Basics Of Novel Writing + The Book Doctor Is In. A discussion of completing a novel from the first glimmer of an idea through writing a complete manuscript. Gleaning an idea, developing it, researching it, writing the first draft, revising, and editing, all the way through to searching for the perfect agent for your work. Including a 25-point checklist to know if you're done with your novel. Matthew uses the checklist is his own work and as a developmental editor.