Liz Whiteacre currently teaches writing at the University of Indianapolis. She is the author of Hit the Ground and co-editor of the anthology Monday Coffee & Other Stories of Mothering Children with Special Needs with Darolyn Jones. Her poems have appeared in Wordgathering, Disability Studies Quarterly, The Healing Muse, Breath and Shadow, and other magazines. She is a recipient of many writing honors, including the 2015 Excellence in Teaching Award from Ball State University and an Inglis House Poetry Award in 2010. In 2011, she was nominated for a Pushcart.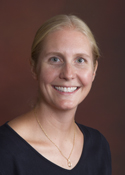 Liz is teaching the Part I intensive session, "Leaping into Poetry." Its content was inspired by poet Robert Bly's book, "Leaping Poetry," which fanned the conversation about taking leaps in poems or moving readers between conscious and unconscious thought. During the daylong session, Liz will concentrate on associate leaps, allusions, and leaps prompted by figurative language, like metaphor. Attendees will learn strategies for leaping in poems both as they compose and as they revise. Written exercises and opportunities to share work will be part of the session. Participants are encouraged to bring a few of their own poems that they are interested in revising.
In addition, during MWW's Part II, on Friday at 10:30 a.m., Liz will teach "Prompting Poems," a session covering different types of writing prompts and resources for jump-starting a new poem; and at 10:30 a.m. Saturday, she will conduct the "Line Break Clinic" to offer strategies and exercises for determining line breaks, and help with forms that best suit the writer's goals and the poem's intention.
MWW committee member Janis Thornton recently interviewed Liz about Liz's love for poetry and teaching, her new book (Hit the Ground) in which she uses poetry to explore dealing with a life-altering injury, what her MWW session attendees can expect, and so much more.
*  *  *
MWW: When and why did you begin to write, and when did you first identify as a writer – and specifically, as a poet?
LW: I started writing in college. I signed up for a poetry workshop at Indiana University, not quite realizing what it was. In the workshop, we focused on reading contemporary poetry, which I'd not read much of, and writing poems in response to what we learned from them. It was a wonderful experience, and I just kept going, eventually getting my MFA in creative writing at Southern Illinois University. I was fortunate to work with poets who were encouraging and very generous with their time. I think I finally started to identify as a poet when I continued writing and publishing poetry after I left school. I was compelled to write at that point and made time for it in the midst of all my other responsibilities. It was then, I started thinking of myself as a poet, and not just as a student or teacher.
MWW: How long have you been teaching poetry, and what is it about the genre that speaks to you?
LW: I've been teaching poetry for over a decade. I love puzzling over how to take a fuzzy emotion and turn it into a concrete image or narrative, playing with language and form to help support the poem's message. As a teacher, I present students with, to borrow Kooser's metaphor, all the tools they can use to craft a poem and create an environment in which students test the tools and see what they can build. Some poems fall apart. Some poems are unexpectedly strong and beautiful. As students work, they begin to see what tools are most useful for what they like to build. And, we can turn to other poets/readers for advice with the construction process. It's the process of the genre that gets me excited about workshops, whether I'm a teacher or student.
MWW: Who is the author who most influenced your development and/or style as a writer? In what ways did that author help shape your art?
LW: Many poets have influenced my work, and it's hard to pick just one. Richard Cecil, Allison Joseph, Rodney Jones, and Lucia Perillo were wonderful, supportive professors as I started writing in college – I've learned from their work and from their charismatic teachings. Lately, I've been reading poets who write about disability, and I've had the pleasure to work with Laurie Clements Lambeth. Her poems and graphics have shaped how I explore metaphor in my poems about pain.
MWW: Your poetry chapbook, Hit the Ground, explores the effects of your devastating, life-altering spinal injury. Why did you choose to tell that experience in poetry? How did writing about this difficult time in your life challenge and/or advance your creative writing skills? How do you feel about the final result?
LW: I think I started telling my story through poems because I was writing poems at the time, and I continued to work with the medium because poems allowed me the opportunity to zero in on particular aspects of my accident/recovery and explore them in a focused way. The poems helped me take abstract feelings like pain and frustration and make them concrete through figurative language. While all the poems in Hit the Ground are based on personal experience, I did feel more freedom to excerpt, condense, or combine things than I would if I were writing a creative nonfiction essay. I think my experiences with spinal injury definitely gave me endless content for poems, and the challenge to write a poem that invites a reader to understand an abstraction has kept me going. It is satisfying to share a poem with someone and have that person better understand not only what is happening to the speaker, but what life is like for someone they know dealing with chronic pain.
MWW: What are you working on now?
LW: I am working on a persona poem project, writing poems from the transcripts of wheelchair users who participated in the study "Pre-Enrollment Considerations of Undergraduate Wheelchair Users and their Post-Enrollment Transitions" authored by Roger D. Wessel, Darolyn Jones, Christina L. Blanch, and Larry Markle.
MWW: What is the best advice you give your students?
LW: Engage with a writing community. Students who read other people's work, talk with other writers about writing, attend events, get conversations going on social media, etc. will benefit in many ways. Not only will they find themselves part of an incredible support network, but their own writing will mature and grow in unexpected ways.
MWW: With regard to your intensive session – "Leaping into Poetry" – what do you teach that's beneficial to both poets and writers of prose? What do you want your attendees to know before the session, and how can they best prepare for the day?
LW: Years ago, when a friend shared Robert Bly's idea of leaping in poems with me, how I write poems changed. The MWW intensive session will focus on how writers can move readers between conscious and unconscious thoughts using associative leaps, allusions, and other types of figurative language. We will be using poems as examples at the workshop, but writers of any genre would benefit from careful thinking about how they create associative leaps in their work, which can add layers of meaning for their readers.
I'll be providing examples of leaps in poems when we begin our discussion, and attendees will have the opportunity to practice leaping while they compose a poem. It would be great if attendees could bring 1-3 poems or flash fiction/nonfiction pieces they've already written (and are open to revising) with them to the workshop, which we can use during an exercise that will help us practice leaping during the revision process.
MWW: Thank you, Liz. We are all looking forward to welcoming you to the 42nd annual Midwest Writers Workshop.