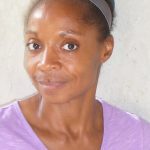 Allison Joseph is the author of What Keeps Us Here (Ampersand, 1992), Soul Train (Carnegie Mellon, 1997), In Every Seam (Pittsburgh, 1997),Imitation of Life (Carnegie Mellon, 2003) and Worldly Pleasures (Word Press, 2004). Her honors include the John C. Zacharis First Book Prize, fellowships from the Bread Loaf and Sewanee Writers Conferences, and an Illinois Arts Council Fellowship in Poetry. She is editor and poetry editor of Crab Orchard Review and director of the Young Writers Workshop, an annual summer residential creative writing workshop for high school writers. She holds the Judge Williams Holmes Cook Endowed Professorship. She is Director of the Southern Illinois University Carbondale MFA Program in Creative Writing.
Allison was interviewed by MWW committee member, Cathy Shouse.
MWW: Please let us know what types of poetry you write and give a short description of your career path, including how you got published and when, as well as your latest release.
AJ: I write all sorts of poems. I have published six books of poems and two chapbooks. My latest book is Trace Particles, a chapbook from Backbone Press.
MWW: How will your intensive session at MWW work? Will participants be doing any writing, for example?
AJ: Lots of reading and writing will take place. Lots of discussion about poetry.
MWW: What is the best tip you were ever given with regard to your writing career and why?
AJ: Read as much as possible.
MWW: Have writing conferences influenced your writing? If so, how?
AJ: Conferences provide community.
MWW: What are some ways all writers might benefit from your session, even if they don't write poetry?
AJ: They will learn about lyricism, diction, rhythm and pacing–those skills are beneficial to all writers.
MWW: What are your thoughts on traditional publishing versus self publishing with regards to writing?
AJ: Poets have so many venues nowadays that self-publishing is not necessary. There are many ways to get published that involve cooperation and community. Self-publishing is actually an isolating move for a poet.
Allison will be teaching in Part I of the workshop on the topic, Reflections on the Contemporary Ode. This session will explore what an ode is, why contemporary poets have rediscovered this form, and why reading and writing odes should be a part of every writer's practice. We'll look at examples of this enchanting form, write new ones dedicated to our own personal inspirations, and get feedback on what makes an ode endure for both readers and writers.
During  Part II, Allison will be teaching on Revising Poems for Fun and Profit. This session will discuss how writing poems is fun. Revising poems is work. Learn how to revise poems so that they have a life beyond your own notebooks. Publication and performance to be discussed in this session.
Read some of Allison's poems in Valparaiso Poetry Review.