In the words of The A-Team's Hannibal Smith, "I love it when a plan comes together."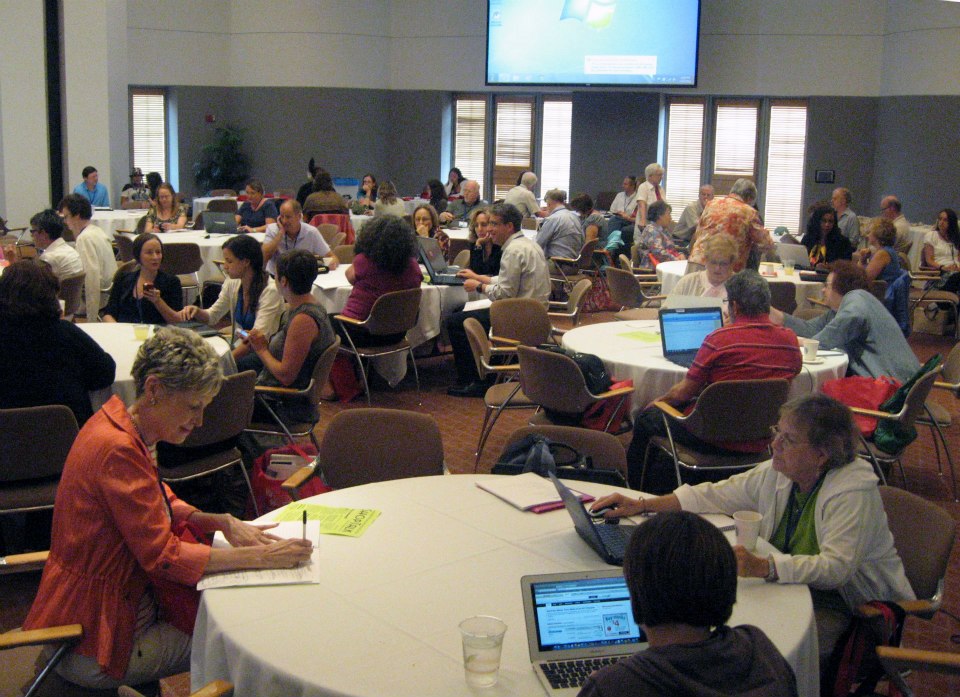 All that planning, all that organizing, all that creative energy from the Midwest Writers Workshop committee, faculty, tutors and volunteers sure paid off. According to evaluations, tweets, posts and blogs, the 39th MWW was a huge success!
This was the summer of the 30th Summer Olympics; it was also the summer of gold-medal performances from the MWW faculty at the Midwest Writers Workshop! While the Olympic athletes were pursuing "Faster, Higher, Stronger!", the MWW participants were pursuing "Better, Finer, Fresher!"
Of the 170 writers at MWW12, most were Midwesterners, but others traveled from 13 states, coast to coast. Repeatedly overheard during the three days was MWW's great sense of community, its relaxed atmosphere for all ages and writing levels, from the 16 year olds to the 80 year olds. The planning committee is proud that we've created The Midwest Writers Workshop Community, overflowing with hospitality, friendliness, and personal attention.
We didn't give participants much time to turn sideways as the days were packed with sessions on craft, business, social media consultations, manuscript evaluations, query letter critiques, agent pitches. What struck Lee Martin about MWW was "the broad stroke with an emphasis on craft."
We were rewarded to see writers energized and enthused, learning and growing. We continued the successful and popular sessions: Manuscript Makeover, Message in a Bottle Readings, Buttonhole the Experts. Then we added extras this year: in-class writing craft sessions, social media consultations, query letter critiques. The brilliant Ball State social media tutors offered free consulting sessions and helped 50 participants learn how to use Facebook, Twitter, and blogs effectively. We also had a live Twitter feed set up in the atrium which streamed Twitter posts throughout the workshop.
So much great advice… so much fun… so much community. Literary citizenship. Tax information for writers. Inside the world of publishing. Building your website. And such wonderful interaction between faculty and attendees… that we'll award our faculty Gold Medals!
Bragging…
"The 30 pitches I heard at MWW were better than the 170 I heard recently at a west coast writers' conference." — Kathleen Ortiz, literary agent, New Leaf Literary & Media
"This has been one of the best conferences I've yet attended." — Brooks Sherman, FinePrint Literary Management
"As I tell everyone who will listen, MWW is the best writers' conference there is!" — D.E. Johnson
"What an amazing batch of writers you have there — the participants' talent is remarkable. I've rarely encountered that many truly talented non-published authors, and never all in one place at one time before. You've created a fabulous garden to grow writers. Thank you for allowing me to be part of it this year! And… personally… I had a blast! Everyone was so welcoming and warm." – Julie Hyzy
"Just wanted to let you know I am proud to say I was a part of the 39th MWW! You and your committee have truly fostered a family-like atmosphere for both the faculty and the attendees, and it was great to feel like a member of the group. I have already started to receive material and I am looking forward to seeing if I can make a match!" — JL Stermer, Literary Agent, N.S. Bienstock, Inc.
"I wanted to let you know how great the conference was. You did a fantastic job creating a friendly atmosphere for everyone involved. Thanks so much for inviting me and I hope you'll remember me for next year!" — Sarah LaPolla, Curtis Brown, Ltd.
"Each year I come home saying this was the best MWW yet, and I said it again this year. A big thank you to you and your committee for a wonderfully organized and presented workshop. You always seem to anticipate what we writers need to know, and you provide excellent professionals to share that needed expertise. This year's social media consultants were a perfect addition for those of us who require an informed "nudge" into the world of twitter, blogs, etc. My tech savvy son will be shocked when he receives a tweet from me–that will give me splendid satisfaction 🙂 I appreciate all of the hard work, knowing a workshop the caliber of MWW doesn't just happen.  Ah, I am among friends and fellow writers here. — Sally Nalbor
Tweeting:
Jeffrey Ashby @JeffreyAshby: @jamabigger and the whole #MWW12 crew, because of MWW I had a short story published and even won an Editor's Choice in Indiana Crime 2012!
Kelsey Timmerman @KelseyTimmerman: My favorite moment of #MWW12 was watching @Fizzygrrl tell @jamabigger about her agent pitch sessions. Can't wait for #MWW13!
Brooks Sherman @byobrooks: Thanks, @jamabigger & @MidwestWriters, for a great conference! @KOrtizzle, @sarahlapolla & I agree it's 1 of the best we've attended! #MWW12
Kathleen Ortiz @KOrtizzle: @byobrooks and @sarahlapolla were a blast to hang with this weekend at #mww12.
Summer Heacock @Fizzygrrl: So, #MWW12 was pretty much the most amazing thing ever. I am so glad I went, and big snergles to all the wonderful new friends I've made!!
Jessica Montgomery @JessyMontgomery: I was so glad that #mww12 was the first conference I attended. It was everything I thought it would be and more! I can't wait to come back!
Erica O'Rourke @Erica_ORourke: Blown away by all the smart, dedicated people at #mww12. One of the best conferences I've been to. Thanks for an amazing time, guys!
Aaron D. Hoover @hooverad: Writer friends, you NEED to come to #mww12 next year (when it will be #mww13). It has remedied the deficiencies in my education AMAZINGLY.
Truly, all participants will describe their MWW 2012 experience differently. You just had to be there. Because in the end, it's the attendees, swooping in with their enthusiasm, talent and energy, who make MWW what it is. None of us wanted it to end. And, in a way, it goes on, as we incorporate what we learned into our writing over the coming months. And as our MWW Community stays connected via SOCIAL MEDIA!
If you weren't able to attend this year, we missed you! And we hope to see you for the 40th annual MWW, July 25-27 2013. We can hardly wait!
Trust us: We will keep asking writers what they like, what they want, and what we can do to keep wowing the heck out of them.