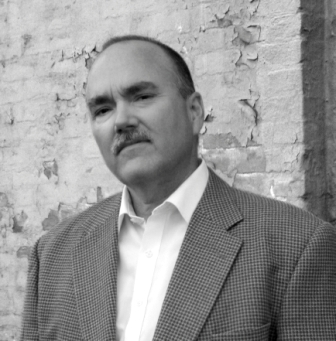 Although D.E. "Dan" Johnson always wanted to write, for the first half of his life, he chose practicality over passion.
After a long, successful career in the audio-video retail business, he sold his Grand Rapids, Michigan-based company in 2006. He took a couple years off to get back to the dream and use the time to hone his writing skills. As it turned out, it was time well spent.
In 2008, Dan met veteran P.I. novelist Loren Estleman, who agreed to read some of Dan's work. Dan sent him the first three chapters of his novel in progress, The Detroit Electric Scheme, a historical mystery set in 1910 Detroit. To Dan's delight, Estleman praised the work, comparing it to Les Miserables. The book found a publisher (St. Martin's Minotaur Books) and hit the bookstores in September 2010. The Detroit Electric Scheme was named one of Booklist's Top Ten First Crime Novels of the Year and won a 2011 Michigan Notable Book Award.
Dan followed up with three more books in the series — Motor City Shakedown, named one of the Top 5 Crime Novels of 2011 by the House of Crime and Mystery, called "extraordinarily vivid" by The New York Times, and won a 2012 Michigan Notable Book Award; Detroit Breakdown, placed on the best crime novels' list for 2012 by multiple publications; and Detroit Shuffle, which earned starred reviews from Publishers Weekly and Kirkus Reviews in 2013.
A 2009 Midwest Writers Workshop Fellow, Dan calls MWW's summer workshop "one of the best conferences in the country and certainly the best value." He is joining MWW's 2015 faculty, teaching an all-day Thursday intensive session, "Writing the Crime Novel," an hour-long Friday afternoon session, "Settings You Can't Escape"; a Saturday morning buttonhole, "Characters You Can't Forget"; and a Saturday afternoon session, "The Hows and Whys of POV."
Dan and his wife, Shelly, make their home near Kalamazoo, Michigan, where he grew up. We thank Dan for speaking with MWW Planning Committee member Janis Thornton earlier this week about his writing and his journey as an author. The result, a Q&A with Dan, follows.
*   *   *
MWW: When we first met at the MWW fellows' retreat in the spring of 2009, you didn't yet know it, but you were on the brink of landing your first publishing contract, resulting in your highly successful The Detroit Electric Scheme, which came out the very next year. What did that achievement do for your confidence as a writer, your passion for writing, and your writing itself?
DEJ: It was very affirming to get my first book deal and a thrill beyond description to see the manuscript in hardcover. My confidence really jumped, which let me give myself permission to take more chances in the subsequent books. As far as passion, I had pretty well maxed that out already. After denying myself writing most of my adult life, I dove in with both feet in true compulsive fashion.
MWW: Now, four books later, what has been your biggest writing-related surprise? And what has been the most satisfying aspect of becoming a published novelist?
DEJ: I'd say the biggest surprises have been the affirmations by critics. My books have gotten three starred reviews from Publishers Weekly, and one each from Booklist, Library Journal, and Kirkus Reviews. I've also won two Michigan Notable Book Awards, which I didn't even know existed until my publisher submitted my first book. I was just hoping to get a book out there in the world, so it's been really gratifying to have a good reception for four of them so far.
The most satisfying aspect, without a doubt, is reader email. Two kinds in particular: my fave is the "You kept me up all night" email, because that tells me I did my job, and also emails from readers who feel like my book has connected them to some aspect of their past, usually an ancestor who lived in Detroit during the time period. Just the fact that people feel compelled to share something about their reading experience with me is amazing.
MWW: Please tell us a bit about your writing process. For example, do you write until you reach a daily word goal, a certain number of pages, or a particular stretch of time? Do you plot your story in advance, or do you let the story reveal itself as you progress?
DEJ: My process is to write every opportunity I get. I've seen quotes from many writers along the lines of, "I get inspired by putting my butt in my seat." Since I also work a "real" job, I can't wait for my muse to call. I write early in the morning and most weekends — all weekend — until I'm done. On occasion, I'll give myself a word count goal, but usually I slog along until I'm finished.
I plot in advance but give myself permission to change anything and everything. Two of my books even have different antagonists than I expected when I started. A mystery plot has to follow a pretty specific convention, and I find it much easier to have a plan.
MWW: Where are you in your Detroit series? Now four books into it, you've taken your readers from 1910 to 1912. How far into your character s' future will you keep the series going? Is there a new series brewing, and if there is, what is it?
DEJ: I'm giving Will, Elizabeth, and company a well-deserved rest. They need to heal their bumps, bruises, cuts, gunshot wounds, radiation burns, etc., before I punish them further. I'm currently working on two different Chicago-based series, one in the gambling world of the early 1900s, and the other in a grimmer reality after the Great Fire. Both still need work, so I'm not sure which will surface first.
MWW: What is the ratio of time you spend conducting research vs. time you are writing? What is the primary source for your research? When you are writing, how do you make that mental shift from 2015 to 1912?
DEJ: When I was working on plotting The Detroit Electric Scheme, I spent three months full-time on research. I've been able to use that material throughout the series, and I'd guess I probably spent another four weeks in research out of the year, give or take, it took me the write each book. There are a lot of good sources for researching the time period, none better than the archives of the Detroit News and Free Press.
As far as "thinking 1912," I give myself a running start. Before I go to bed, I read the section I just wrote to put me in the proper frame of mind for the next morning. I'll usually read it again just before I start writing.
MWW: What advice do you have for writers in their mid-life years, and beyond, who dream of being a published author but are still looking for that first book deal?
DEJ: Don't give up! Perseverance is the most important trait for a writer to be published. Hundreds of famous authors were rejected dozens or hundreds of times before they made it. However, you also need to be realistic about your project. Even though you're in love with your post-Apocalyptic YA novel, chances are agents are not going to be these days. Look for your next idea, sit your butt down, and get to work.
MWW: You are booked for a Thursday intensive session, "Writing the Crime Novel." What would you like your participants to know in advance about you and the material you'll be teaching? What's the best way for them to prepare for the class? And what is the most helpful writing advice you plan to pass on to them?
DEJ: First of all, we'll have fun. The class will be part lecture and part workshop, with a lot of interaction. I'll be touching on all the important aspects of writing thrillers, mysteries and crime novels, from characters and setting to plotting and writing violence that kicks the reader in the gut. My topic is so big I don't know that I can single out any one piece of advice I think is most important. My goal is to give the writers a blueprint for writing the best book they can. If the attendees have works in progress, that's great, but the only prep necessary is to drink lots of coffee beforehand and be ready to go!
MWW: Thank you, Dan! We look forward to seeing you in July.