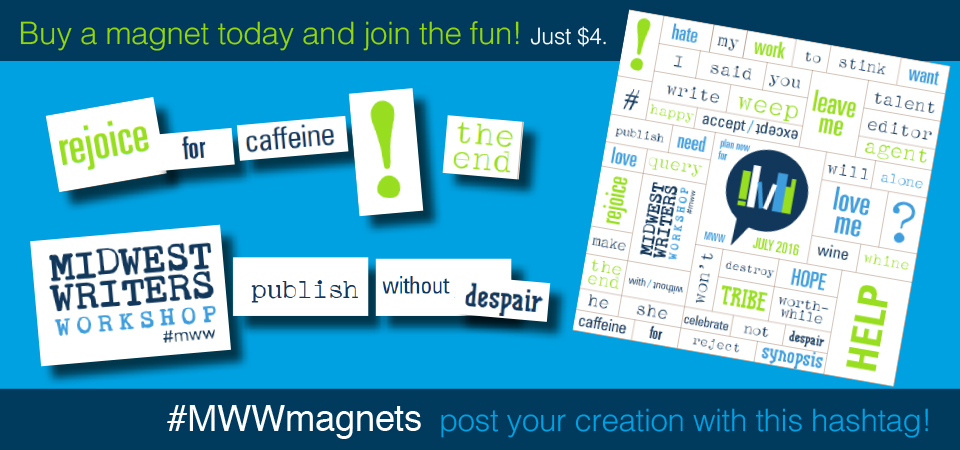 Oh the plans we are making for #MWW16. It is going to be amazing! We've been busy growing the number of opportunities you all will be able to take advantage of this summer.
To celebrate our excitement, we are hosting a contest. Participate and you could win $50 off your registration for our annual conference on July 21-23, 2016.
Here's how to play:
Buy one of our MWW word clusters for $4.
Make a creative phrase, sentence, poem, or paragraph that makes our team of judges laugh or cry or think or jealous of your creativity.
Take a photo of your creation and share it on Instagram, Twitter, or Facebook using the hashtag #MWWmagnets
Our judges will choose a winner on February 6th (because that's my birthday. Why not celebrate, by giving someone $50 off?!)
Here's how to order:
---
To give you an idea of what is possible, I challenged myself to use every word. The picture of my word Frankenstein's word monster is below, and here's the text with added punctuation:
My happy tribe,

Alone? Help?

I reject, destroy despair. Leave me!

You will…

…celebrate stink.
…write synopsis.
…query agent, editor.
…publish!
…whine, weep, wine.

Hope won't want to need talent, except
MWW said, "Hate not worth-while work!

– Love me (Kelsey Timmerman)
Think you can do better? Prove it!