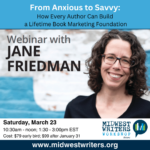 If you're the kind of writer who likes to ask, "What's the single most important marketing activity I should focus on?" (because you don't have time for anything else), this session is for you.

No matter how you plan to publish, or what you publish, every author must give some thought to marketing themselves as an author. But given how fast tools and techniques change—and how hard it is to attract attention—how can an author figure out what's worthwhile to focus on?

This masterclass helps authors focus on the foundational elements that are most important to career-long book marketing, the bare minimum required for an online presence, and how to approach marketing when many of the traditional methods of publicity don't work so well, given dwindling media coverage and review opportunities. This session will provide a framework for developing a strategy and approach that's appropriate for your strengths and your work.
You'll learn key principles for using your website, email newsletter (or Substack or blog), and a dash of social media to better reach and engage readers, both new and old. Plus we'll consider offline or in-real-life opportunities to grow your readership through collaborations, partnerships, and literary citizenship
In this workshop, you will:
Uncover the principles and techniques for marketing activities that play to your strengths, with special attention paid to lead generation (that is: finding readers)
Learn the concepts of "content strategy" and "marketing funnel" and why these are important to determining how you will use your website, email, or social media
Understand how to use social media (if you so choose) in a way that's supportive of your goals and not a distraction (the big secret: focus)
Find out why you should start building an email list today even if you think you have nothing to say
Especially for writers who would like to be smarter and more efficient about their online presence—and see that activity pay off—this session will push you to connect the dots between all your efforts and decide what's essential and what you can set aside (so you can spend more time on the writing itself!).