What a way to celebrate the 40th Midwest Writers Workshop! At capacity (happily) six weeks before the workshop! First time establishing a waiting list. First time (sadly) turning away writers desperate to attend.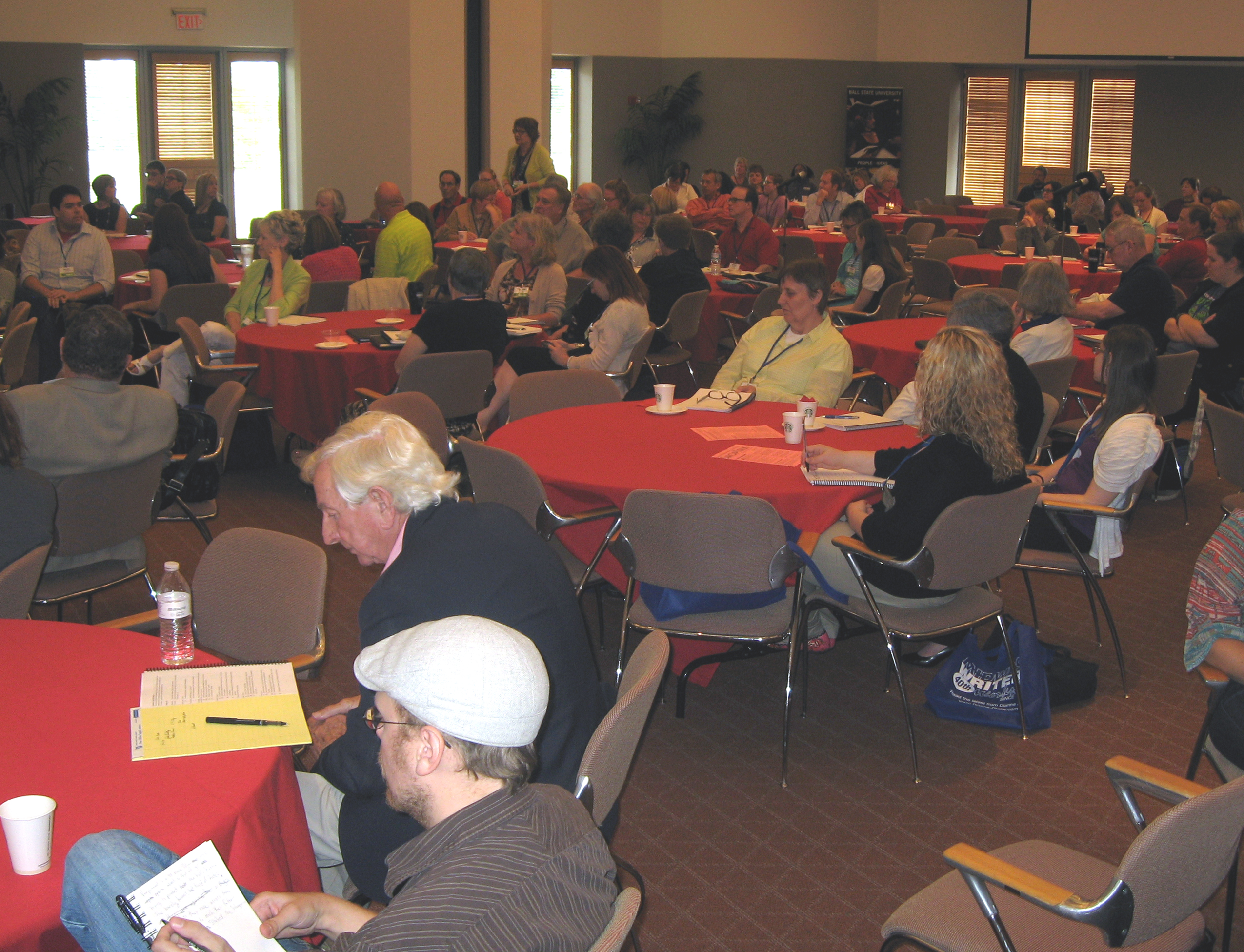 Participants traveled from 20 states, and according to the word eavesdropped in the Conservatory, the Library, Assembly Hall and all corners of the building, never have so many enjoyed so much.
A record-breaking 235 participants crowded into the Alumni Center, July 25-27, to listen, talk, write, share, pitch, question, eat, drink, laugh, challenge, commiserate – and, yes, sleep once in a while. Something special marked this 40th annual workshop that might be difficult to put your finger on, but anyone involved knew it was happening. "…very encouraging," invigorating," "awesome," "5 stars!" "the best,"  "thrilling experience," were just some of the comments which pointed in this direction.
From the new hands-on Tech Intensive Sessions to the wild Jeopardy game to the history celebration to the Message in a Bottle to the Buttonhole the Experts, and to all the useful and informative sessions taught by a superbly talented faculty, MWW13 jammed highlights galore into three exhausting days.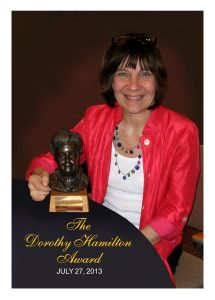 After the great energy and advice from Hank Phillippi Ryan's banquet speech, another special highlight was the presentation of the Dorothy Hamilton Award to MWW director Jama Kehoe Bigger. The award, named for the co-founder of the workshop, is given selectively to a person associated with the workshop who exemplifies Dorothy's strong personal interest in writing and assisting other writers in their careers.  The standing ovation for Jama confirmed this year's choice was on target. (And she was also a bit overwhelmed when several long-time participants/friends created Jama's Fan Club!)
Kudos from our participants…
"Great conference – great place to re-energize your enthusiasm for writing and to build relationships with writers and those in the publishing business."– Stephen Terrell
"At every step of my writing process – from book idea to rough draft to final draft, to publishing, author platform, to agent representation – MWW offers help and people who know and love writing."– Sandy Kachurek
"The Midwest Writers Workshop is a magnificent way to meet our peers and gain knowledge to perfect our craft. The authors and the staff are extremely generous with their time and knowledge. Having bestselling authors share their experiences and knowledge is awesome to the extreme. It's like spending two whole days with the best possible mentors."– William Markly O'Neal
"This conference is the best thing that could have happened to a 'new writer.'"– Brittany Means
"Each year I attend I find there are 'magically' the exact classes I need for the stage I happen to be in with my writing at that moment."– Carla Gillespie
"This is the best conference I could have attended. Friendly people, knowledgeable faculty, personalized options (like manuscript evaluations). This conference has helped me form new goals and equipped me with skills and resources to reach those goals. I feel much more prepared for the writing process – from first drafts, to revisions, to queries, and beyond – because of this conference."– Kristen Metz
"This was my first conference, and I loved all of it. Everyone was welcoming. I made great contacts and even got two requests for full manuscripts. This conference is packed full of everything an emerging writer needs to step right into the world of publishing."– Anne W. S.
Kudos from our faculty…
"As we say in Sisters in Crime, you write alone, but you're not alone. Nowhere is this more gloriously apparent than the super-charged powerhouse of writing skill-the Midwest Writers Workshop.  From tentative newbie to experienced oldbie (!) -we all learned something useful, we all shared something special, we all made new friends, we were all inspired and – absolutely – we are all looking forward to the next time. A true triumph-and a must-do for anyone who's  intrigued by the world of writing." – Hank Phillippi Ryan (Mary Higgins Clark, Agatha, Anthony and Macavity award winning author, President of National Sisters in Crime)
"I left the Midwest Writers Workshop as a stronger writer…and I was on the faculty. I can only imagine what it does to attendees." – Lou Harry
"The Midwest Writers Workshop 2013 lived up to its reputation as one of the best conferences in the country and certainly the best value. Any writer looking to learn the craft of writing, discover the tricks and tips to getting published, and meet a wonderful and accessible group of writers and agents, would be crazy to pass up this conference. MWW undoubtedly provides the best bang for the buck!" – D.E. (Dan) Johnson (The Detroit Electric Scheme; Motor City Shakedown; Detroit Breakdown; Detroit Shuffle, St. Martin's Minotaur Books)
"The Midwest Writers Workshop remains at the top of my list of favorite conference experiences. The focused curriculum, helpful staff, and welcoming participants all make this one of the best organized writing events I've yet seen." – Brooks Sherman, FinePrint Literary Management
Check out our videos! (produced by Matt Shouse)
[youtube]http://www.youtube.com/watch?v=n1QLj-6L5MA[/youtube] [youtube]http://www.youtube.com/watch?v=HyZC3PI5NLM[/youtube]
Read more about the fun of MWW13!
Jane Friedman's luncheon presentation: Audience Development for Writers: Your Life-Long Career Investment
Cathy Day: BSU + MWW: or "How I Spent My Summer Vacation"
Kelsey Timmerman: Midwest Writers Workshop Video
Summer Heacock: The Fizziest Midwest Writers Workshop Wrap-Up You'll Ever Read
Sarah Wesson: "Calm Down. Write a Book.": What I Learned at the 2013 Midwest Writers Workshop
Check our Photo Gallery and tag yourself on our Facebook Page!
So we're patting ourselves on the back. And for just a while, basking in the bright light that was #mww13 before we move onto our 41st MWW, July 24-26, 2014.