Literary agent Sarah LaPolla returns to MWW13!
Sarah LaPolla is very excited to share her latest news that she is now with Bradford Literary Agency!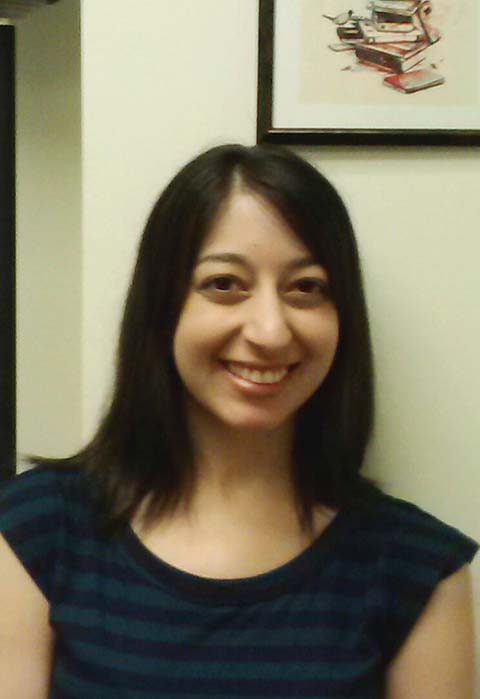 Sarah represents YA and adult fiction, and the genres she looks for in both of those categories run pretty parallel. She prefers contemporary stories to historical, unless there's a very good reason for it to be historical. For "genre" fiction, she loves horror, mystery, science fiction, and fantasy, but looks for the word "literary" before any of those headings. Think Shirley Jackson as opposed to Dean Koontz for horror, or Gillian Flynn rather than Sue Grafton for mystery. If she's not in love with the characters, it's hard for her to pay attention to much else. She also loves magical realism, which is hard to define and is a very specific type of writing. Her quick definition is: A subgenre of literary fiction that infuses fantastic/surreal elements to the story that are not essential to the plot.
Sarah runs the literary blog Glass Cases and can be found on Twitter at @sarahlapolla.
MWW committee member Cathy Shouse (Twitter@cathyshouse) interviewed Sarah for this week's newsletter.
Cathy: Most agents come to MWW just once. Why did you decide to come back?
Sarah: I'll come back to MWW as many times as I'm invited! The staff and faculty are so organized and friendly and professional. It was great getting to know them on a personal level last year as well as professional. It's nice when conferences aren't all about business every second of the weekend. MWW seems to keep in mind that agents are people first and agents second. It's just a great atmosphere to be a part of, and the quality of the writing I've seen there is worth the trip alone.
Cathy: Any tips for last year's attendees who pitched to you and perhaps you took a pass? It's not easy on either side when the answer is "no," and the reasons why will vary. I ask because one writer said that she acquired an agent after they had multiple contacts at conferences over a period of years. Some of us may think a rejection means to avoid the agent forever.
Sarah: It always depends on why the pitch was rejected. If it's something I don't represent, then I'm not likely to change my mind. But if it's something I asked questions about and passed on because certain elements were missing, then I'd be open to revisit it.
Cathy: When we last talked, you had not ever found a client at a conference. What is the status of your finding clients at conferences these days?
Sarah: Last year I met the fabulous Summer Heacock at MWW and requested her manuscript when she didn't even pitch to me. We just got to know each other as people first and then I realized–through the other agents there–that her writing was just as clever as she seemed to be. So, I requested the manuscript, asked for a revision, and about four months post-MWW, I signed her as a client.
Cathy: Do you have a personal list of automatic rejection criteria for queries and submissions?
Sarah: I answer everything I receive with usually a form rejection, and then a personal rejection if it's something I requested. (Or, the better case scenario, with an offer of representation!) There are two exceptions: When a query is attached instead of in the body of the email, it gets instantly deleted. The other "delete-without-being-read" query is when I see other agents copied on it. Writers should query multiple agents simultaneously, but they should be choosing specific agents they think will be a good fit for them. Mass emails show carelessness and a lack of professionalism.
Cathy: What premises or plot twists are you tired of seeing in your inbox?
Sarah:
Anything paranormal. Vampires have finally subsided, but now I'm seeing too many genetically enhanced humans, teens with superpowers, and love interests who are paranormal creatures.
Main character's parents are dead/neglectful/drunk/other-excuse-for-absent, so main character must find self-actualization through a "wild" best friend or perfect soul mate.
Teens who are bullied or are bullies. I've sold books like this and still think they matter, but I'm overloaded with them. Bullying as a YA topic has always been around, but in recent years it's become a trend, and sadly that market has become saturated.
Dystopian worlds that don't do anything new with the genre. I love dystopian, but it's too hard to sell in the post-Hunger Games market so 99 percent of the time I have to pass on it. Conspiratorial governments, characters living in a not-what-it-seems world, and the one girl or boy who's meant to save the day are "basic" elements of dystopian that can't stand on their own anymore.
Cathy: Anything writers should know about your change of agencies? Do you still handle foreign rights?
Sarah: I'm still the same agent! I represent the same genres and hope to grow my adult fiction side of my list at my new agency. I don't still work in foreign rights, but since I came from that world and know how much it matters, I made it part of my job search to only seek agencies with a fabulous foreign rights agent. Among the many reasons I joined Bradford Literary was because I knew my authors would be in good hands with Taryn Fagerness as their foreign rights representative.
Cathy: What are some examples of current published works you enjoy, to give us a feel for what interests you?
Sarah: My favorite book published last year was Gone Girlby Gillian Flynn. This year (and yes I know it's only half over), my favorite is Eleanor and Park by Rainbow Rowell. Two very different books, but at their core they're both about characters you can't stop reading about.
Cathy: For those with pitch appointments with you in July, how should they prepare? This is your chance to describe an ideal pitch appointment, or take it in the reverse, what is a poor one?
Sarah: I always tell writers to relax! The point of a pitch session is to tell an agent–succinctly–what your book is about. If you do that, you've won the pitch session. No agent will offer you representation based on a pitch session. If you get a "sure, send me material," the agent still needs to read your work. So there's no reason to get worked up during the pitch. Even if it's a "no," then the writer still did the job.
Cathy: If someone doesn't have a pitch session, may that person still approach you? If so, how?
Sarah: Of course. I'll probably be put off if a writer approaches me with their pitch, but a simple "hello, how are you, oh by the way I have a book you might like" can work out quite well. Also? They should attend the session I'm teaching with Summer Heacock at MWW on how to approach agents at conferences!
****
Sarah's Part II sessions include:
Agent Panel Q&A: Sarah LaPolla, Victoria Marini, John Cusick, Amanda Luedeke, Brooks Sherman. Topics: The 3-minute pitch, query letters, etc.
Publishing in a Brave New World Panel – Sarah LaPolla, Roxane Gay, Barb Shoup, Jane Friedman, D.E. Johnson
How to Make a Connection at Conferences – Sarah LaPolla and Summer Heacock