SHARON BARNES
finally, April
And then there's the magnolia tree
              on a small triangle of green.


              In the midst of
                         lecture notes
                         conference prep
                        reams and reams of paper
                        the constant jostling of elbows
                        noodling the President's intentions
                        who's telling stories about whom
nodding her flowered cap,
wafting her scent
to everyone here.
Global Warming Comes to Toledo, Ohio
The gray stays
      but the air changes.
Southern spring tastes a tropical tang
      in this unseasonably humid morning.
The neon plastic daffodils
       glow orange in the breeze.
The garbage truck spits exhaust
        into the undrinkable air.

Sharon Barnes is a poet and facilitator of the Uppity Women poetry group in Toledo, Ohio. Barnes is Associate Professor and Chair of Women and Gender Studies at University of Toledo.
MICHAEL BROCKLEY
Aloha Shirt Man Smiles without Showing His Teeth for His Driver's License Renewal
When the copy machine at the BMV spits out Aloha Shirt Man's temporary license, a black-and-white mug shot emerges like a Most Wanted poster. The photo of a gormless sidekick named "Bullet-Waltz" Waldo, a shoot-'em-up henchman who gets cyclopsed by the Man with No Name while tugging at the revolver his partners glued into his holster. Aloha bids happy trails to his doppelgänger, confident No Name has a Peacemaker loaded with blanks. And that Waldo has his blood squib handy. Another glance at his license and Aloha's inner bass player emerges, a Jack Daniels stalwart from Wolverton Mountain. A picker nicknamed "Brickyard" or Bush Hog." A beer-barrel chest with a cut-off Wrangler vest over a tequila-worm t-shirt. A Confederate belt buckle strapped around Carhartt jeans. Eyes skewered into slits to charm swamp panthers out of his Fender with nimble fretwork. His gator grin hidden behind a thicket of gray beard. The bottom voice, like a feud oath, if the lead singer can't wrestle up some trouble for the greatest hits finale. But no. Aloha Shirt Man stares, at last, at his bona fide self, as he exits the license branch, at an aging Gorilla Monsoon, Jr. from the wrestling extravaganzas in his college dorm. A flop artist growling "Pulverize" and "Destroy" before every choreographed and necessary loss. 

Songbirds
The cardinals that nested in the barberry bush beneath my bedroom window lost their chicks last May. An owl, probably. Taken overnight while I slept. When the male redbird vanished during a scavenging foray, the hen had to choose to protect the nest or hunt the larvae and seeds that nourished her chicks. Her excursions left her brood without a guard to harry any predators skulking about. An opossum or raccoon. A hawk or owl. I missed the week of flying lessons that would have followed if the fledglings had fallen from the nest, falling being the first lesson in learning to fly. The red streak swooping low across the lawn while the chicks huddled under the shade of the red-purple bush. The father's aerial pirouettes. The brown sentinel alert in a nearby viburnum. 
A year later I awakened to find a nest tucked into the fork of the barberry bush where the cardinals had been. A smaller cup interwoven with brown twigs. And three strands of cellophane that were later swept away during a storm. Except for a few disarrayed strands, the bowl held its shape against the wind. Its floor still sturdy in early April. Around it now, the bush pushes forth new foliage to hide its thorns. Plum-tinted berries will follow. In the morning I peek out the window before I dress. If I raise the glass, I can hear the birdsong of cardinals, wrens, and finches. The male finches turning gold as the days warm. From red maple to Juneberry, sparrows hurl their small bodies to perches on a fence or newel post. Or to a tree limb at the best height for a mating song.
This spring if songbirds fledge outside my window, I will learn how to fly.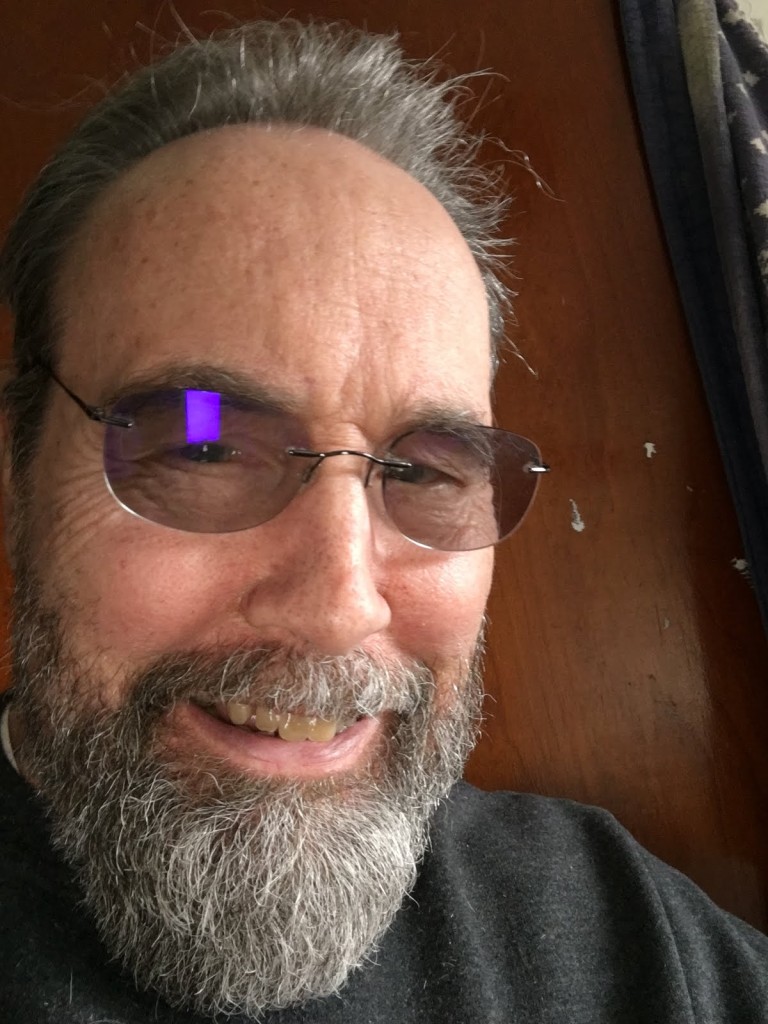 Michael Brockley is a retired school psychologist who lives in Muncie, Indiana where he is looking for a dog to adopt. His poems have appeared in Pine Cone Review, Parliament Literary Journal, and Visiting Bob: Poems Inspired by the Life and Work of Bob Dylan. Poems are forthcoming in Last Stanza Poetry Journal and Lion and Lilac. 
ROSALEEN CROWLEY

Spring – Start Over


Remember last year's Spring,
Yellow daffodils in a mass,
Birds flew home on a wing,
Rabbits chased across grass.
Same today, seasons bring
Seasonal mixed weather,
Life begins again, floating
Softly like a feather.
Upbeat, important to note
Life can only get better,
Not worse, we can always hope.
Let's write a letter.
"Dear self," open your heart,
Stop counting score,
Every day, do your part
To love more and more.
Step up to the challenge,
Communicate and follow through,
Read, walk, do not avenge
The toxicity of those you knew.
Next year, look back and say
You are nearer to the prize,
Simple steps day by day,
Remember time flies.
And so, another year will come and go
Success measured in friendships and love
Be prepared to be luminous and glow
Like a lightbulb shining from above.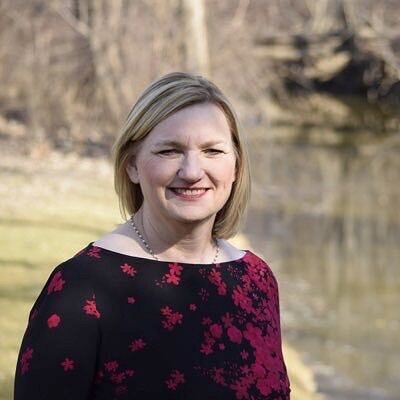 Rosaleen Crowley is a poet, artist (signs as Roscro) and educator. Educated at University College Cork, Ireland, she experiences life through a connection to two cultures, Co Cork Ireland and Indiana, USA. She is co-founder of Carmel Creative Writers, Inc and Board Member Brick Street Poetry, Inc. She is past president of International Women Indiana. Her trilogy in hardcover- paintings and poetry are titled, Point of Connection, Point of Reflection and Point of Perception. Her latest paperback is a compilation of poems written about Ireland or in Ireland, Of Land and Poetry: Ireland 
JOHN DORSEY
Galway Kinnell's Book of Nightmares in the ICU
at 3 am i leave my own mind
like some weathered piece of luggage
& wake up screaming
next to beeping machines
i think about the first book
i ever bought with my own money
& the dark paths i could only imagine then
& it isn't the steady hand
of kinnell's polished lines
that get me through the night anymore
but sammi smith's sad soft voice
that somehow remains
in long hallways of wanting
& the bravery of ford swetnam's tears
from an idaho hospital bed
writing down poems in his final days
that's what i want
a little soul
the only thing that stops
when you can no longer
see the sun.
John Dorsey is the former poet laureate of Belle, Missouri and the author of Pocatello Wildflower. He may be reached at archerevans@yahoo.com
PELLA FELTON
it's clean leg season
And I need a razor
That's just for trans women
A Theyzor or She/Theyzor
With a long handle for shoulder blades
And a touch like dove soap
Cause It's been a long winter
And my Venus blades are not sufficient
to get rid of those airplane whiskers
Without tearing up my runway
I'm tired of torturing my legs
With creams
And razors
And wax
And too many cuts
And skin bumps
And blackheads
And a massive red rash 
where I shaved too hard
There's a classic calculus of how far to go.
To the knee for a business meeting
the thigh for a romp in the swamp
Or all the way up for a visit 
from Chloe who I met on Tender
Two days later, I'll  fight 
against the cruel matrix of dots
And the burning sensation of Nair cream
Against a cut on my index finger
From the blade I left in my make-up bag
But under the detritus 
Of blood hair and shaving cream
Behold the Bright red freckles 
Blooming like dandelions 
From beneath these freshly mowed meadows
Pink Tax Be Damned
I need A blank canvas
For wind against my knees
Or Chloe's hands against my thighs
Loving the skin I'm in

Pella Felton is a writer, performer, and general troublemaker from St. Albans West Virginia. Pella's work uses poetic inquiry and orative performance to create shared experiences between listeners and performers. As a digital performance scholar, Pella has presented her research at the Great Lakes Association of Sound Scholars, The Emerging Scholarship in Podcasting Symposium,  The Pacific Ancient and Modern Language Association, and the upcoming 2023 Society for Cinema and Media Studies conference in Denver, CO. Last month Pella presented her talk "Transphilogyny: Writing a New Script on Transfeminity" at the Marvin Center's "TEDx BGSU – For The Public Good." Pella is a graduate of West Virginia State University and Syracuse University, and she is currently pursuing her PhD at Bowling Gren State University in the Department of Theatre and Film. While avoiding finishing the mountain of documents she owe her advisor, Pella enjoys watching videos of elevators, listening to podcasts, and hanging out at Waffle House. Also birds. Birds are nice.

@pellaischaotic
https://www.facebook.com/Ilikebirdz
NORBERT KRAPF
Bare Winter Trees
after a painting by Alicia Revere Mathias
I love to look at trees stripped down
of the their leaves coming into winter.
Now I can see their inner life, so to
speak. Now they are just like us
folk who have nothing to hide.
Often times after I follow the lines
of their bare dark branches, suddenly
a light from beyond the woods begins
to shine through them. Just like us,
they are coming alive again. Their
inner life shines through them and passes
on to us, awakening us to our very roots.
how good to feel ourselves illuminated!
To feel our whole being come back to life!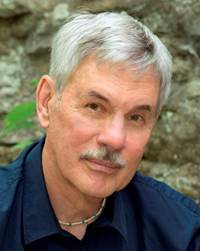 Former Indiana Poet Laureate Norbert Krapf is the author of fifteen full-length collections, including the recent "Spirit Sister Dance." His Homecomings, A Writer's Memoir, which covers the fifty plus years of his writing and publishing life, will appear early this summer. He won the Lucille Medwick Memorial Award from the Poetry Society of America, a Glick Indiana Author Award, and a Creative Renewal Fellowship from Arts Council Indy. He has a poem in stained glass at the Indianapolis Airport and has had his poems read on The Writer's Almanac. For more, see www.krapf.net. 



PAULA LAMBERT
Spring
The strange beast of the night
has retreated, hackberry down,
no more damage than that
and the echoing tinnitus you woke with,
b flat, constant, dull.
The wind's wild paw—
which took out a city west of here—
left the fence intact. Small favor.
Elsewhere, children are dead.
The storm, sure. The anguished shooter.
Pockets of silence everywhere,
in the aftermath. You calculate:
chainsaw, chipper, enough mulch
to cover the peonies, the lilacs,
the hydrangea and rose of Sharon
sure to follow.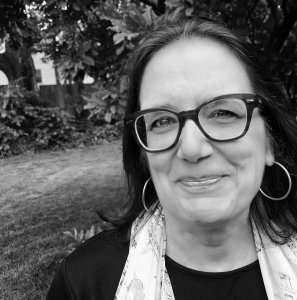 Paula J. Lambert has published several collections of poetry including The Ghost of Every Feathered Thing (FutureCycle 2022) and How to See the World (Bottom Dog 2020). Awarded PEN America's L'engle-Rahman Prize for Mentorship and two Ohio Arts Council grants, she is also a visual artist, small-press publisher, and nascent literary translator.

LYLANNE MUSSELMAN

Seductive State
Sometimes I feel like leaving Indiana behind in stardust,
and move to a more seductive state –
to Tennessee who flaunts her perky Smoky Mountains,
or Maryland who winks and waves her Chesapeake Bay.
Maybe to Georgia who sashays her peaches,
or Arizona who keeps me on pins and needles –
each state has her assets that convinces me to stray.
But Indiana takes me by the hand and begs me to stay.
She touches me with memories of warm childhood days,
and starry adolescent nights; kisses me with our history;
She hugs me close with family and friends, gives me
a glimpse of all I would miss –
then she serenades me with sounds of her brilliant Cardinals,
reminds me of her gorgeous dogwoods in full bloom,
gives me a whiff of her lilacs in the spring,
and I feel myself swoon for her all over again.
"Seductive State" first appeared in Tipton Poetry Journal, and it was one of three of Musselman's poems selected for the INverse Poetry Archive in its inaugural year.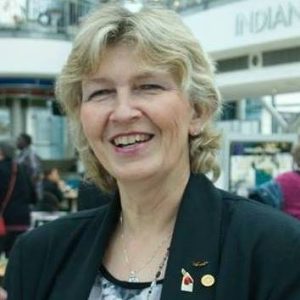 Lylanne Musselman is an award-winning poet, playwright, and visual artist. Her work has appeared in Last Stanza Poetry Journal, Tipton Poetry Journal, The Indianapolis Review, and The Ekphrastic Review, among many others, in addition to many anthologies. She is author of six chapbooks, and her seventh, Staring Dementia in the Face is forthcoming in May 2023 from Finishing Line Press. Musselman is author of the poetry collection, It's Not Love, Unfortunately (Chatter House Press, 2018). She is currently the director of Blackford County Arts Center of Arts Place in Indiana.
MARK NEELY
Triple Crown
Veined question marks of shrimp,
legs yanked from a chicken, mussels
clattering in the pan after months
of clinging to a sunken rope with what
looks like quiet desperation. The radio plays
the call from the '73 Belmont—Secretariat
moving like a tremendous machine.
Meat, muscle. Cutting through the dark
eyes of a potato. Bruce looks down at his fingers
wrinkling around the knife.
Last night he dreamed he was commander
of a deadly sub and killed a spy
by spraying him with ink from
a poison pen. Every murder begins
with a murderous thought. In between,
we eat. Bruce longs for a defunct era
when we roamed savannas, filthy
and amazed, when a gas burner flaring
to life would have been astonishing—
like a dead bird getting unsteadily to its feet,
shaking its feathers and flying off—
the sort of wondrous sight that led us
to religion. Bruce is skeptical
about the soul, but some evenings
he feels a hunched, bow-legged creature
wallowing in the tar pits of his body,
some mornings it frees itself and bounds
away in the grass, or climbs
haltingly to the top of a broad tree
and looks out across the burning plains
where animals run in frightened circles.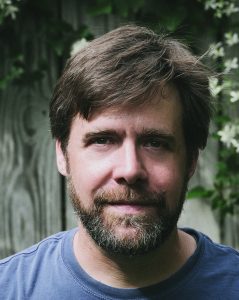 Mark Neely is the author of Beasts of the Hill, and Dirty Bomb, both from Oberlin College Press. His third book, Ticker, won the Idaho Prize for Poetry and was shortlisted for an Indiana Author Award. His other awards include an NEA Poetry Fellowship, an Indiana Individual Artist Grant, the FIELD Poetry Prize, and the Concrete Wolf Chapbook Award for Four of a Kind. His poems have appeared in Gulf Coast, New England Review, Indiana Review, Copper Nickel, Boulevard, and many other journals. He is a professor of English at Ball State University, and a senior editor at River Teeth: a Journal of Nonfiction Narrative.
MICHELLE JOY GALLAGHER SOFFE
We speak of 
March in
Terms of 
Lions and 
Lambs 
Trembling with
Burgeoning 
Spring 
Torrential 
Offerings 
And a fragile
Verdancy 
That pleads 
With the 
Earth to
Forsake 
Death
Michelle Joy Gallagher Soffe is an author of poetry and prose from Sacramento, California. She is mother to 3 children and wife to  Matt Soffe, professional artist and colorist. Testing the limits and playing with the elasticity and beauty of the English language is one of her passions. With an affinity for Astronomy and Physics, she often makes correlations between the corporeal and the cosmos.
KERRY JENSEN TRAUTMAN
May 1st, Redbud
The redbud tree flames itself fuchsia
like a towering tentacled flower,
the lacy carcass of some lovelorn jungle bird,
the breath of a summer's-worth of berries,
the soaring relics of a vanished purple rose.
Like a brittle, living coral scooped from tepid
reef waters, thrust in woodland underbrush
to desiccate itself to fringed purple bone.
As if a swelled-bellied doe nibbling shoots
in damp humus above the tree's new roots might,
like Newton, be struck by a stowaway seahorse,
tiny magenta blossom curled in its scaly tail.
(previously published in Sugar Mule, 2012)
Pasque Flower      
As if petals snipped from towels frozen to Lake Erie sand.
As if Christ curled himself against his boulder,
as if returned for Mary Magdalene.
As if wishing for an end to ice brings sun,
as if sun makes good on squinted promises.
As if it is enough to be purple and soft,
as if softness and purpleness fend off late killing frost.
As if regret could manifest from soil,
as if an old virgin wished she hadn't waited so long for nothing,
as if a young non-virgin wishes to float back into the soil.
As if all we have to do is make it til April,
as if all we have to do is flex open to still-cold sun.
As if secrets could begin in the womb,
as if they could be taken to the tomb.
As if violet petals aren't the answer to re-seeding ourselves,
as if beige pom-poms were,
as if they would detach and float into May
as if May were Lake Erie baptizing what falls in.
As if we could float ourselves back to the soil,
as if we could re-create.

(previously published in ellipsis…literature & art, 2021)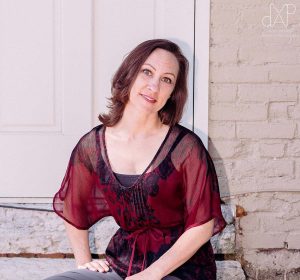 Ohio born and raised, Kerry Trautman is a co-founder of ToledoPoet.com and "Toledo Poetry Museum" page on Facebook which promote Northwest Ohio poetry events. She has served as judge or workshop leader for the Northwest region of Ohio's "Poetry Out Loud" competition annually since 2016. In 2019, her one-act play "Mass" was a winner of The Toledo Repertoire Theater's "Toledo Voices" competition. Her poetry and short fiction have appeared in various journals, including MidwesternGothic, Alimentum, The American Journal of Nursing, Slippery Elm, The Fourth River, and Third Wednesday; as well as in anthologies such as, Mourning Sickness (Omniarts 2008,) Delirious: A Poetic Celebration of Prince (NightBallet Press 2016,) Nine Lives Later: a Dead Cat Anthology (Dee Dee Chapman, ed. 2017,) and Let Me Say This: A Dolly Parton Poetry Anthology (Madville Publishing, 2023.) Her poetry books are Things That Come in Boxes (King Craft Press 2012,) To Have Hoped (Finishing Line Press 2015,) Artifacts (NightBallet Press 2017,) To be Nonchalantly Alive (Kelsay Books 2020,) Marilyn: Self-Portrait, Oil on Canvas (Gutter Snob Books 2022,) and Unknowable Things (Roadside Press). Forthcoming is a fiction chapbook Irregulars (Stanchion Books, 2023.)
LIZ WHITEACRE
Sun Salutation
We breathe in Mountain Pose. Eight and a half months
of yoga class has taught us to move in sync
like swimmers in an Esther Williams' number.
My yoga pants and sleeves slice air as we Forward Fold
and lunge, and you, submerged, stretch to Ravi Shankar's
sitar plucking melodies, which transports us far from this basement
to smells of curry and sounds of feet treading cobbled stone.
I can't help but think of your spine curving like a prawn's
in my womb when I Downward-Facing Dog. I began
this class in fear when you were pea-sized, hoping flexibility
would save my battered vertebrae as you grew, stretched me
into motherhood. We no longer Upward-Facing Dog;
instead, we lunge, lift our arms in salutation and fold our hands
in prayer as a mountain. We wait for classmates in child's pose
to catch up, and I'm joyful I can no longer see my toes―almost time.
Impatient, you kick my abdomen. You're happiest when we move,
don't press on my lungs or bladder then, my breaths circulating
our bodies in a quiet, dim hour when all we have to do is
Sun Salutation in coordinated rows, our hearts beating
in our warmed bodies, both anxious for your coming.
Liz Whiteacre is the author of Hit the Ground. Her poetry has appeared in Disability Studies Quarterly, Wordgathering, Kaleidoscope,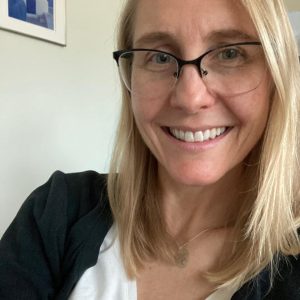 Last Leaves, The Score, Flying Island, and other magazines. Whiteacre is an associate professor of English at the University of Indianapolis. She teaches creative writing and publishing, and also advises Etchings Press.