Join us for the 50th Midwest Writers Workshop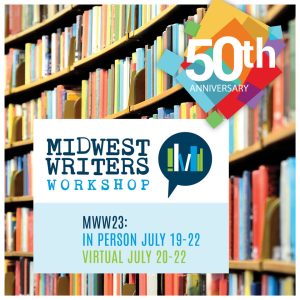 MWW23 Conference: Craft + Community
TWO registration options!
In-Person: Wednesday, July 19 – Saturday, July 22, 2023 ~ Ball State Alumni Center, Muncie, Indiana

Virtual: Thursday, July 20 – Saturday, July 22, 2023
MWW23 is our BIG 50th celebration! Whether you attend in person or online (using Zoom), we'll have top-notch instructors leading interactive sessions, enlightening panels on vital topics, and networking opportunities to help you expand your writing community. We have an incredible faculty of some of our favorite authors, and many MWW alums!
This hybrid version of MWW allows us to offer plenty of instruction, networking, and the sense of community that makes MWW so special. Come to Muncie, Indiana, and join us at the beautiful Ball State Alumni Center for our 50th writers' conference, or join us virtually wherever you're located.
Our hybrid MWW23 includes:
**In-person sessions and/or Zoom video conferencing that feature a variety of topics determined by each faculty member, writing prompts, and vital, informative, enjoyable discussions to build your skills as a writer.
**A remarkable faculty who know their stuff, providing information for aspiring writers at all stages of their journey.
Fiction – Jess Lourey:
Fiction/Thriller/Suspense – John Gilstrap
Fiction/Mystery – Lori Rader-Day
Fiction/Young Adult – Barbara Shoup
Fiction/Thriller – Matthew Clemens
Nonfiction – Michael Martone
Nonfiction – Jill Christman
Nonfiction – Kelcey Ervick
Nonfiction – Brent Bill
Nonfiction – Lou Harry
Poetry – Mark Neely
Poetry – Liz Whiteacre
Children's – Chadwick Gillenwater
Publicist – Dana Kaye
Friday afternoon Keynote – Jane Friedman
Friday Keynote – Haven Kimmel
MWW ALUMNI AUTHORS: Kelsey Timmerman, D.E. (Dan) Johnson, Sandi Baron, Leah Lederman, Larry D. Sweazy, J.R. (Joe) Roper, Kelly O'Dell Stanley, Sherry Stanfa-Stanley, Sarah Schmitt 
Why attend?
This conference is the perfect opportunity for you to take that idea for a book and get it started, or dust off that novel and get it polished and ready for publication. Wherever you are in the process, MWW is the right place for you.
MWW23 has five decades of experience in helping writers to get words on the page, find their voice—and their community—and publish their work! Our faculty's sessions and panels will provide you with the tools you need to improve your craft, and you might just make some writing buddies while you're here.
That's our goal and the vision behind our mission statement: to nurture writers of all levels at every stage of their journey, and to provide and build a writing community in the Midwest and beyond. 
 **Private Facebook Group plus evening "Talkabouts" (for ALL attendees!) for camaraderie and to build connections with other participants and faculty.
**Can't attend all the sessions live? No problem. MWW is offering archival video access to ALL attendees for sessions for three months following the conference.
The cost for our in-person MWW23 experience is 

$399

 $349.
This year we're offering our in-person attendees FOUR DAYS of instruction and activities. You'll have the chance to discuss craft with faculty members and network with other writers, and if you're dizzy by the end of it (with all of that information and inspiration!), not to worry. For up to three months after the conference, you can watch session recordings to revisit something you found particularly helpful and get inspired you all over again, or catch the sessions you might have missed. We encourage you to check out sessions outside of your genre, too! This will teach you new ways of looking at your craft and challenge you to stretch your writing.
The In-Person Experience, July 19-22:
Manuscript evaluations: Evaluation of your first five pages plus a one-page synopsis of a manuscript, completed or in progress. The $50 fee covers a 15-minute one-on-one in-person appointment during the conference. For more information/to sign up for Manuscript Evaluations, click here.
Office Hour with each faculty: Have you ever wanted to sit with a published author and pick their brains on topics like: publishing, revising, or anything else that relates to becoming an author? This is your opportunity. You don't need an appointment, just drop in for these informal sessions with our faculty members.
Meal fellowship with participants: Sign up for lunches (pre-order when you register) and hang out with other writers at the Ball State Alumni Center. (See FAQ for details.)
Ball State Bookstore on-site vendor: Purchase books by our MWW23 faculty and Board. Get them autographed!
MWW Consignment Bookstore: If you're a published author attending in-person, you can sell your books at our consignment bookstore. (See FAQ for details.)
MWW merchandise: Take something home to commemorate your MWW23 experience!
Note* In-Person attendees will have virtual access to live sessions as well. Virtual attendees will have virtual access only.
The cost for our Virtual MWW23 experience is $199.
The Virtual Experience, July 20-22:
Enjoy sessions in real time: From the comfort of your home (think: pajamas!), you'll be able to participate in a live chat with other virtual attendees and join the Q&A with the instructor.
Morning Coffee Fellowship: Say good morning to your fellow attendees, share insights from sessions, and ask questions about that day's activities. Bring your mug of coffee or tea!
Join our evening Talkabouts: These Zoom gatherings are designed to help you get to know one another (virtual and in-person attendees), share your writing or favorite tidbits of the day, and maybe join in on a writing sprint.
Tap back in later: Recordings in a private YouTube channel will be available for three months after the conference, so you can review any content that you missed—and even check out a session you normally wouldn't! Insights from other genres will inform your writing and get you thinking outside of the box!
Join us to be inspired and equipped for the next step in your writing journey!