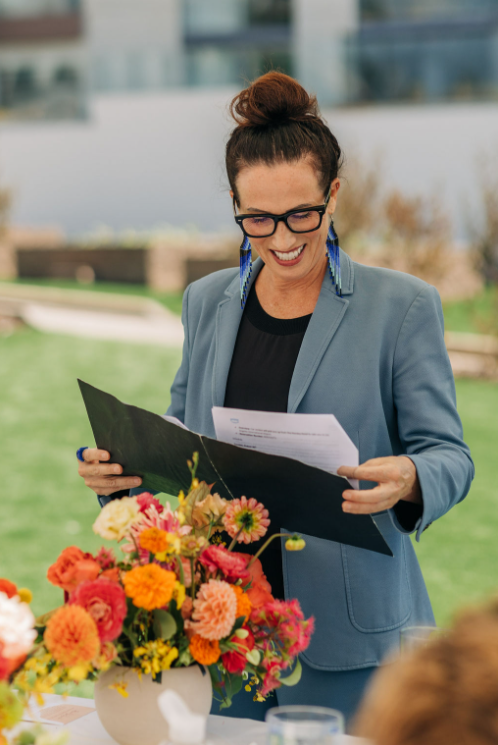 Jess Lourey writes about secrets. She's the Amazon Charts bestselling, Edgar, Agatha, and Lefty-nominated, Anthony and Thriller Award winning author of crime fiction, nonfiction, children's books, YA adventure, and magical realism. She is a retired professor of creative writing and sociology, a recipient of The Loft's Excellence in Teaching fellowship, and a TEDx presenter (check out her TEDx Talk for the surprising inspiration behind her first published novel). When not leading women's writing retreats, reading, traveling, or fostering kittens, you can find her drafting her next story. Find out more at www.jessicalourey.com, Facebook, Instagram, Twitter, and TikTok.
Jess will teach the sessions "The 7-Step Pyramid on Point Method for Turning an Idea into a Novel or Memoir" and "How to Choose a Genre for Your Novel." She'll sit down with Lori Rader-Day for for a conversation on "Kicking Down the Door: The Many Paths to a Publishing Career."
Leah Lederman had a lot of ground to cover in this interview because Jess Lourey's experience and range is vast. She has wisdom and insight for all levels of the writing experience.
MWW: I appreciate what you share in your Tedx Talk about the transformative power of storytelling. How can we write stories that are transformative for the reader?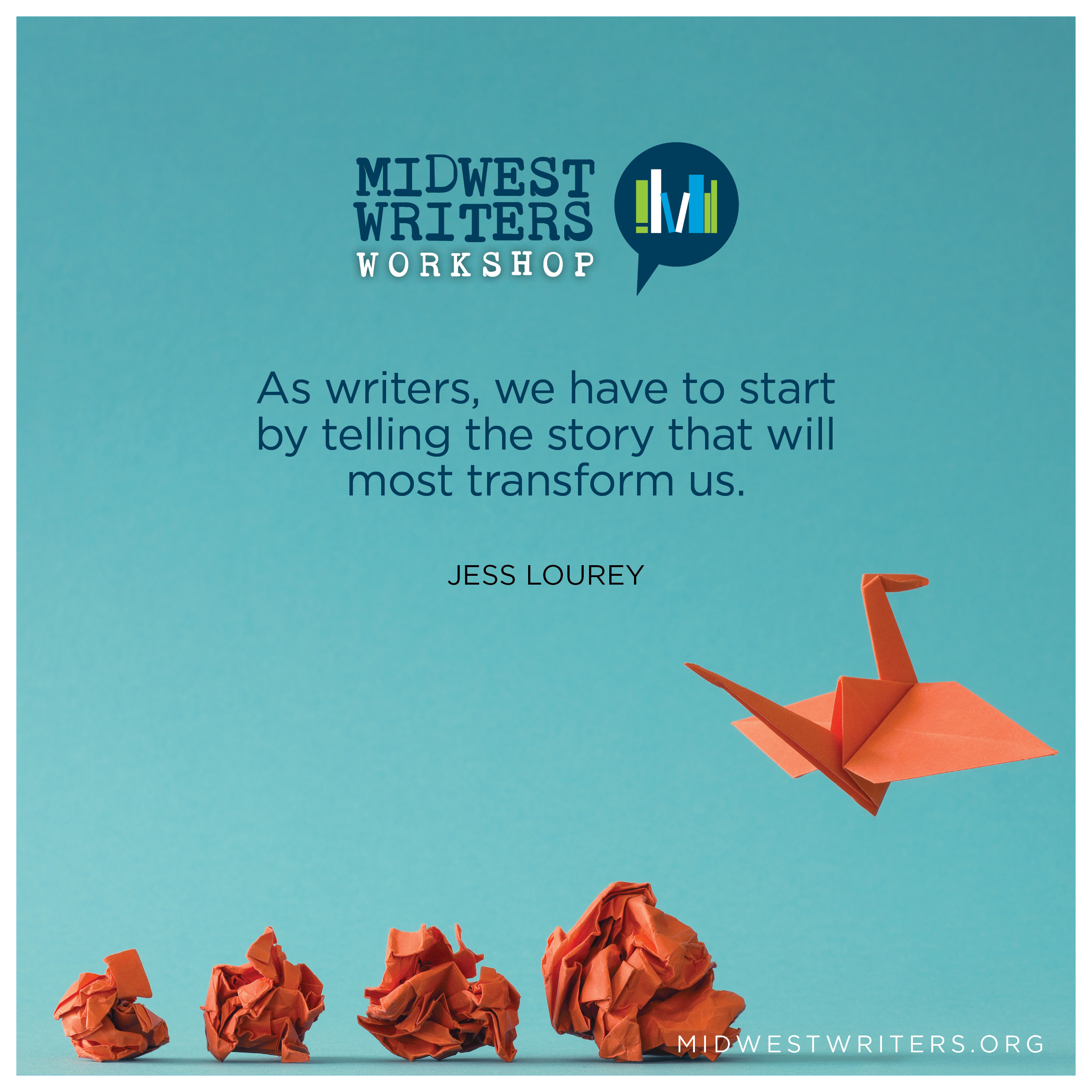 JL: Thanks for watching my TEDx Talk! I believe that as writers, we have to start by telling the story that will most transform us. We all have at least one recurring theme in our lives, some lesson that we seem to have to learn over and over again. For me, the recurring theme is the poison of secrets and the dangers of protecting a system over a person. By connecting with our life theme and telling the truest version of it, our writing automatically resonates with others. Stories honestly told—whether fiction or nonfiction, romance or mystery or literary fiction or anything in between—are inherently transformative for the reader because they speak to the human experience.
MWW: You've written stories your whole life, though—like many of us—you lost track of your creative side for a while. What brought you back, and at what point were you able to comfortably say "I am a writer"?
JL: I've been writing full-time since 2021, and I still feel like a kid playing dress-up when I tell others I'm a writer. Part of that is that it's been a dream for so long that it feels unreal to actually get to live it; the rest of that is the imposter syndrome that plagues so many of us. But even if I wasn't paid to write, I'd do it. It's my mental health, how I find my way back to myself, how I make sense of things. As you say, I've written poetry and stories my whole life, but I became turned off from it in the late '90s when I couldn't find an agent for my first novel. (Spoiler alert: it's because the book was really bad, but I was too close to see it at the time.) My ego was dinged by the 25 or so rejections the book received from agents, so I stuck it in a drawer (metaphorically; it's actually my master's thesis and so is unfortunately available to check out from my alma mater's library) and focused on teaching and being a mom and a wife. When my husband committed suicide in 2001, though, all my plans went south. I found myself in the hospital for a potential miscarriage brought on by extreme stress. Fortunately, my pregnancy remained intact, but it was clear the stress was a major health risk. The very kind ER doctor suggested I meet with a therapist and also return to writing to help cope. So, after two years of no writing, I threw myself into it. The result was May Day, what became my first published novel, as well as a healthy son born on schedule.
MWW: I love that you write in so many genres. Tell me a little bit about the process of deciding what genre is most suitable for a story idea. (Or do you draw inspiration from the genre itself?)
JL: I've so far published magical realism, suspense, thrillers, cozy mystery, nonfiction, young adult, and a children's book. In each case, either the story came into bloom with a genre more or less attached to it (if it had a secret at its center, it was going to be mystery; if it had adventure at the center and young-ish protagonist, it was going to be young adult, etc.), or I had a contract where the genre was decided first (i.e, "we'd like two thrillers,") and I had to come up with a story to fit it. I like something about both methods; the first is pure creation and play, and the second comes with a guaranteed paycheck, and I oddly find that I can be more creative with some boundaries in place.
MWW: As someone who leads writing retreats, you'll have a special insight into this—How can a writer get the most out of an experience like MWW?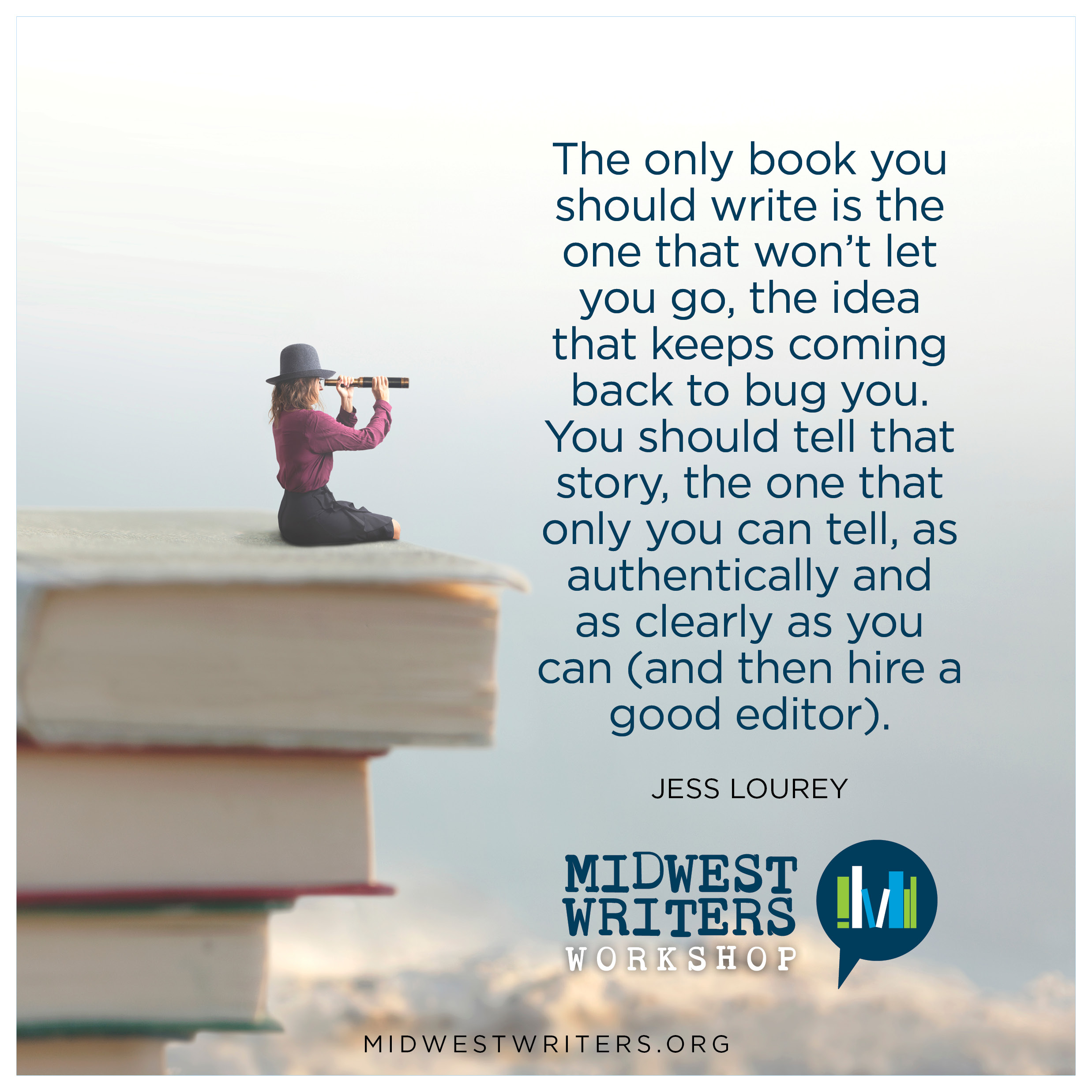 JL: It's cliche, but my experience has been that we get out of writing workshops exactly what we're looking for, and so I recommend going into a retreat or a conference with a short list of priorities. Do you want to find an agent? Learn how to edit your project? Find an accountability partner to write with? Know what you're looking for when you sign up, and then be intentional about getting it. This means attending panels/workshops that will provide the information you're after as well as asking questions in appropriate settings.
MWW: Your turn! What question do you wish that someone would ask you about writing, but nobody has? Write it out and answer it!
JL: I wish somebody would ask me what the next hot-selling book concept is. Then I could say what I've seen proven over and over again: it doesn't matter what's selling now because it'll change by the time you've written your book. The only book you should write is the one that won't let you go, the idea that keeps coming back to bug you. You should tell that story, the one that only you can tell, as authentically and as clearly as you can (and then hire a good editor).
JESS LOUREY WRITES THRILLER, MYSTERY, FANTASY, YOUNG ADULT, CHILDRENS, AND MORE!
"I teach writing workshops all over the country, but never have I attended a conference so well-organized as Midwest Writers Workshop. The organizers know what they're doing, the faculty are skilled teachers and writers from all over the country, and the workshop participants are eager, intelligent, and so supportive of one another. This is hands-down the most worthwhile, the most fun writing conference I've ever had the pleasure of being a part of!"  – Jess Lourey, bestselling Edgar, Agatha, and Lefty-nominated, Anthony and Thriller Award winning author