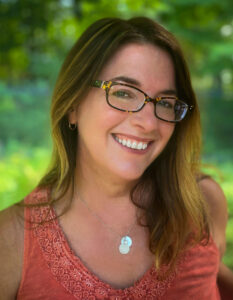 Jill Christman is the author of If This Were Fiction: A Love Story in Essays (University of Nebraska Press, 2022) and two memoirs, Darkroom: A Family Exposure (winner of AWP Prize for CNF) and Borrowed Babies: Apprenticing for Motherhood. A 2020 NEA Literature Fellow, she is a professor in the Creative Writing Program at Ball State University, senior editor of River Teeth: A Journal of Nonfiction Narrative, and executive producer of the podcast Indelible: Campus Sexual Violence. Visit her at jillchristman.com and on Twitter.
Jill will teach the sessions "Seeing Beyond the I: Using Multiple Points of View in Creative Nonfiction" and she'll also sit down with Michael Martone and Mark Neely for for the panel "Curiosity and Obsession in Fiction, Poetry, and Nonfiction." She is also on the manuscript evaluation team.
Q&A with Jill Christman
It was a real treat to get to ask Jill Christman for her perspective on the writing process. The insights she offers here, on point of view and different types of creative nonfiction forms, are just the tip of the iceberg. Do yourself a favor and register for the conference so that you can learn even more from her sessions!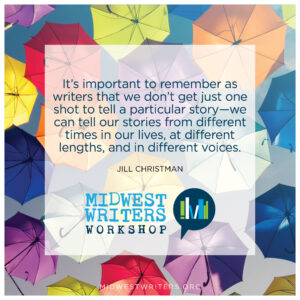 MWW:  In
The Art of Memoir
, Mary Karr writes, "You think you know the story so well. It's a mansion inside your head, each room just waiting to be described, but pretty much every memoirist I've ever talked to finds the walls of such rooms changing shape around her. There are shattering earthquakes, tectonic-plate-type shifts. Or it's like memory is a snow globe that invariably gets shaken so as to shroud the events inside." In 
Dark Room
you did an incredible job of taking the reader through that head-mansion with you. Can you describe your process in navigating and articulating memories?


JC: I know this is a great question, Leah, because it's fundamentally unanswerable. As a memoirist, it's been essential to me to recognize that memory is a messy, slippery, shifting place. Darkroom: A Family Exposure was my first memoir, written when I was in graduate school (studying fiction—because creative nonfiction was not yet an option) at the University of Alabama in my late twenties. I didn't know anything about anything, but I did know that Darkroom was the first book I needed to write, standing between me and every other book, and I worked so hard to piece together what I remembered into a narrative about the first twenty-five years of my life—the truest story I could tell about where I'd come from, who I had become, and where I was headed. I believe that the telling of our own stories is our deepest power, and I used every tool I could find to dig the fragments of memory out of my brain—family interviews, photographs, and letters from my uncle in prison, but also things like the gaps in memory, my parents' artwork, and even the scars on my brother's body. I used artifacts in tandem with my memories to help lead me to the truest story I could tell. I have an exercise I do with my students: First, write down everything you remember about your earliest memory. . . Now? Write down everything you cannot remember. My students are usually amazed by what they find in the gaps. Also? Memory begets memory. It's a wild ride.

MWW: You'll be talking about shifts in point of view as a technique for making writing discoveries. (Without regurgitating the entire workshop here), can you talk about the ways these different points of view affect the story and/or how readers perceive them?

JC: Clearly, the first-person singular, that I, is the most common point of view in the writing of personal nonfiction, but in this summer's workshop, we'll explore how alternative points of view might help to change the lens of our vision in ways that are fruitful in the excavation of personal stories—whether the final work appears in that alternative point of view or whether this point-of-view play is a tool to discover what we've come to the page to say. For example, in revisiting a difficult childhood memory, it might serve the writing to stand firmly in the safety of the present and use the third-person to explore our child self, or perhaps, in speculating about a future event, we might want to engage second person to break ourselves free from the reality of the present and enter into possibility. In the workshop, we'll look at flash essays from Brevity and Beautiful Things (River Teeth's weekly online magazine of micro essays) to think about the range of point of view in contemporary nonfiction.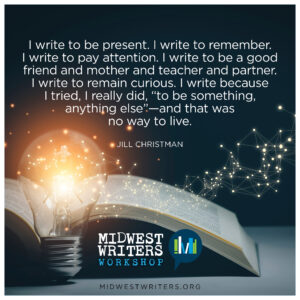 MWW: You're no stranger to short-form memoir. Are some ideas better suited for short form versus long form memoir, or can any idea be purposed for both?


JC: I think my answer to this question is definitely both. In my own work as an essayist, for example, I have written about the way we embody grief in both long, braided essays that take in a range of geography and a wide swathe of time—for example, in one of my favorite essay, "The Avocado" (which appears in my new collection—If This Were Fiction: A Love Story in Essays) and with the focus and distillation of flash nonfiction, such as in what is likely my most-read essay, "The Sloth" (first published in Brevity, and the first essay in ITWF). It's important to remember as writers that we don't get just one shot to tell a particular story—we can tell our stories from different times in our lives, at different lengths, and in different voices. As a teacher and an editor, I encourage writers to play around—and to be comfortable with failure, practice, and trying again. Take the same draft and write it two ways: distilled to a single image or moment, and then again, opened up to threads, connections, and riffs.

MWW: When do you know you have something worth writing about? Conversely, at what point do you decide something isn't working and needs to be put aside, at least for the time being?
JC: Is there anything that isn't worth writing about? I guess I'd say no. Write your way to making it worth writing about if it matters to you. I guess this is a decision that's made again and again deep in the gut of every writer. Trust your gut. Linger in the uncertainty. Slow down when things get hard. Be sensitive to the moments of surprise. That said, if I'm boring myself, I put it aside. I have hundreds, probably thousands, of such pages. It's the nature of this lovely beast.
MWW: Your turn! What question do you wish that someone would ask you about writing, but nobody has? Write it out and answer it!
JC: Why do you write? I think of that classic Lorrie Moore story, "How to Become a Writer." Moore's story begins: "First, try to be something, anything else." And so I did. But writing, as a daily practice, as a way to live in the world, keeps pulling me back. I write to be present. I write to remember. I write to pay attention. I write to be a good friend and mother and teacher and partner. I write to remain curious. I write because I tried, I really did, "to be something, anything else"—and that was no way to live. So here we are.
Stay tuned! We've got more Q&As with our All-Star faculty members.
They will help you write your story!
Exciting News!
Midwest Writers Workshop will award a limited number of
scholarships
for participation in the IN-PERSON conference. Apply 
here
.
We're proud to present
MWW50th Homecoming Day: Writing Matters
, a FREE one-day writing event featuring workshops and panels with our alumni. Learn more and register
here
.

MWW is dedicated to building a community where writers can network with others and grow.