Join us for MWW Agent Fest Online 2021: October 13-16, 2021, Wednesday 10:00 am, ET through Saturday 5:00 pm, ET.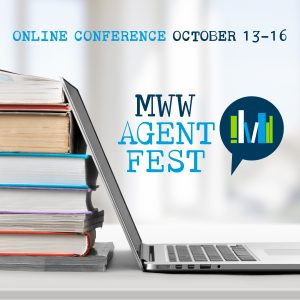 Our first virtual 2020 MWW Agent Fest was a big success! What attendees said:
This was the best conference I've attended. The quality of the speakers and MWW Staff could not be better! I left the conference with renewed vigor and with the validation that I am not alone in this writing life!
These knowledgeable professionals gave me tips and up-to-date advice that would have taken years to learn, if ever. With each pitch I become more confident and gained a better understanding of what agents are looking for. I was able to mold my pitch in a way that highlighted those things. These agents weren't afraid to be honest. The knowledge they imparted to be was priceless.
The absolute best aspect of these events is getting to talk to agents informally in a non-threatening environment knowing they are here to help. I cannot convey that enough. As an unpublished author, we need a level of validation that we are not crazy for pursuing our passion and our dreams. Their immediate feedback is appreciated.
It was a fantastic experience all the way around. My only regret is that I didn't get over my anxiety and jump in sooner. The practice pitch sessions seemed to be a real treasure trove of input. The agents were really engaged, brimming with good advice and helpful honesty. First page read was a precious chance to peek into the mind of agents. I am astounded at how much I learned thanks to this conference.
Again, this year's Midwest Writers Workshop Agent Fest will be held online (using video conference technology). We have designed an online version of MWW Agent Fest that offers opportunities to pitch, plenty of instruction, networking, and the sense of community that makes MWW so special.
Here's an opportunity to pitch your book directly to agents in search of new voices! Connect with literary agents who are actively searching for the next big thing across all genres including fiction, nonfiction, young adult and more. During the Agent Fest Online 2021, you'll have a chance to meet agents one-on-one and capture their attention with the basic concept of your book. We've assembled a dynamic roster of top-tier agents to participate in our Agent Fest Online 2021. We have four days of valuable sessions; no matter what you're writing – fiction or nonfiction – the sessions will help point you in the right direction. Writers of all genres are welcome.
Our online conference features:
Agent Fest Online 2021 features a remarkable faculty and attendees can select three to pitch to.
From October 13-16, via Zoom video conferencing, sessions with a variety of content from agents and editors that feature lectures with vital, informative, and enjoyable discussions to build your skills as a writer.
Private Facebook Group for camaraderie and to build connections with other attendees and faculty.
Can't attend all the sessions live? No problem. MWW Agent Fest Online 2021 offers archival video access to ALL attendees for ALL sessions and the content from other faculty members, allowing you to audit other sessions at your convenience during Agent Fest Online 2021 and for the following four weeks.
Savannah Brooks, Jennifer De Chiara Literary Agency
Claire Harris, P.S. Literary
Mina Hamedi, Janklow & Nesbit Associates
Amanda Orozco, Transatlantic Agency
Jeff Ourvan, Jennifer Lyons Literary Agency
Regina Ryan, Regina Ryan Books
Rita Rosenkranz, Rita Rosenkranz Literary Agency
Dani Segelbaum, Carol Mann Agency
Loan Le, editor, Simon & Schuster
You'll meet one-on-one (via Zoom) with three agents. Each pitch lasts eight minutes, composed of a 4-minute pitch and a 4-minute response/discussion from the agent with feedback.
You Will Get:
Immediate feedback on the merits of your book directly from agents working in that genre or category.
Actionable advice on perfecting your pitch, and/or ways to improve your storyline or nonfiction premise.
The opportunity to land representation and start on your path to a publishing deal.
Keys to Agent Fest Success:
Do your research. There are eight agents and one editor attending and some will be a better fit for your writing than others. Be sure to study the list of faculty and target those who handle your genre or interest.
Practice makes perfect. We're offering practice sessions each morning. Join in! This is your chance to sell your book, so write it out, practice it and perfect your pitch.
Get expert advice. To help you prepare, we have Zoom sessions with willing volunteers where you can practice. You can hone your pitch and get more comfortable with presenting live. You'll also gain the confidence you need to make a great impression.
Read this blog post by our MWW friend Jane Friedman – How to Pitch Agents at a Writers Conference
By Saturday afternoon, you will have added more tools to help you move forward on your writing journey.
Secure your spot today.