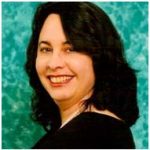 Maye Ralston has published creative nonfiction, journalism, essays, and poems in newspapers and in corporate and commercial magazines since 1985. Her commercial writing practice was balanced between journalism and corporate writing and included writing content for, deploying, and consulting about social and emerging media, websites, ezines, and blogs. She currently writes opinion editorials and short essays for The Sage News Network, blogs at mayeralston.net, and is writing a novel. 
If you connect with me on Facebook, or if you read my last "Shorties" post (at mayeralston.net), you followed my recent drama over "losing" my novel. Basically, I spent hours in revisions, stupidly didn't back up my work, then synced my novel with another app to make it accessible on all of my devices and easy to make changes on onedevice and have it show up on the other.
Of course I lost everything.
Fortunately I write in Scrivener so I got it back. You can read all about it here.
Being a bit of a techie person, I know it's important to back up my work against the probability of hardware and software failures. And yet … So I'm going to quickly go over a few back-up options and provide links to a few back-up services for your convenience. (Just in case there's anyone out there doing what I did.)
A couple of hardware options: 
1. An external hard drive–PROS: handy home office use and provides a second place to store your work; CONS: inconvenient to carry around if you travel with your laptop much and vulnerable to damage and hardware failures.
2. A CD or Flash Drive–PROS: smaller to carry around than an external hard drive, no user name and password is necessary; CONS: vulnerable to damage, vulnerable to loss (especially Flash Drives), and CD's are inconvenient if you use a laptop with no internal Read/Write CD drive.
Online (Cloud) server storage options (basically you are borrowing or renting space on a computer somewhere in the ethernet):
1. (All brands) PROS: No internal Read/Write CD drive is necessary, you can backup from anywhere, no shlepping additional gear, your data is accessible on all your devices, and you aren't going to accidentally drop it or leave it on the bus; CONS: you might forget your user name and/or password, you are limited to a minimal amount of storage in the "free" versions, to get more storage you have to pay a small fee (worth it in my opinion), it's possible their server could have problems (generally they backup data to prevent loss).
My choice is…
…online server storage. Here are a few: Microsoft SkyDrive, Google Drive, Evernote, iCloud (for Macs and Apple Devices only), Dropbox (my favorite). Here's a link to the top ten online fee-based backup options. You will note Dropbox is listed in the fee-based options. This is because you have to pay a fee to get more than 2G of storage with Dropbox.
 I put a link to Dropbox on my Facebook Timeline and on my Twitter stream. If you join the free Dropbox using one of those links you will get an additional 500 MB of space free. (And so will I.) Here are my Facebook and Twitter address links.
For smartphones, iPads, and Android tablet devices: SkyDrive (OneDrive), Evernote, Google Drive, and Dropbox have apps.
How to use:
Sign up for a service (make sure you are using the personal, as opposed to business version, if you want to use it for free or for a smaller fee), follow the directions to download the service link to your computer (if necessary for use), and begin using. You can google "how to use (insert service name)" for specific directions and additional helpful information. Here is the google search I did for Dropbox.
Special Note: Don't forget to label each version of your work separately to avoid over-writing previous versions with your latest one. I use "FILENAME-VER #."
Here is another online backup service that was suggested to me recently. It's called BackBlaze and costs $5.00 per month for unlimited data backups. It backs up your entire computer.  I haven't tried it yet so I can't recommend it, but it might be worth considering if you have a lot of data to back up regularly.
What's your preferred method of backing up your work?
Please share in the comments section if you have other suggestions or information that might help everyone, or if you have anything to add to this discussion. Also, I'm curious to know how many of you have lost something important because you forgot to back it up. (Come on now, don't be shy…)
IF YOU ENJOYED READING THIS YOU MAY ALSO ENJOY:
Getting Lost With Scrivener
Tools for Writers: The Benefits of Writing With Scrivener
An eSolution for Character Creation: Character Writer
My Pick for Screenwriting Software: Celtx
Where to Timeline and Storyboard: eSolutions
eSolutions for Social Media Addictions
For a Better Quality Break Time: Creativity Enhancing Goodies
Connect with Maye at: @MayeRalston, Facebook, LinkedIn, Google+, About.Me, and via her website.