Dirk Manning is the writer/creator of comic series such as the supernatural noir Tales of Mr. Rhee and the genre-bending horror anthology Nightmare World. More of Dirk's comic work includes Buried But Not Dead, Twiztid Haunted High-Ons, (nominated for three Ringo Awards, including Best Humor Comic of 2020), Hope, Butts in Seats: The Tony Schiavone Story, Love Stories (to Die For), and The Adventures of Cthulhu Jr. & Dastardly Dirk. Now predominantly publishing with Source Point Press, Dirk was an early adapter in using crowdfunding to launch pre-sales of his comics and graphic novels, with Dirk's work having raised over $250,000 and counting in pre-sales on Kickstarter alone.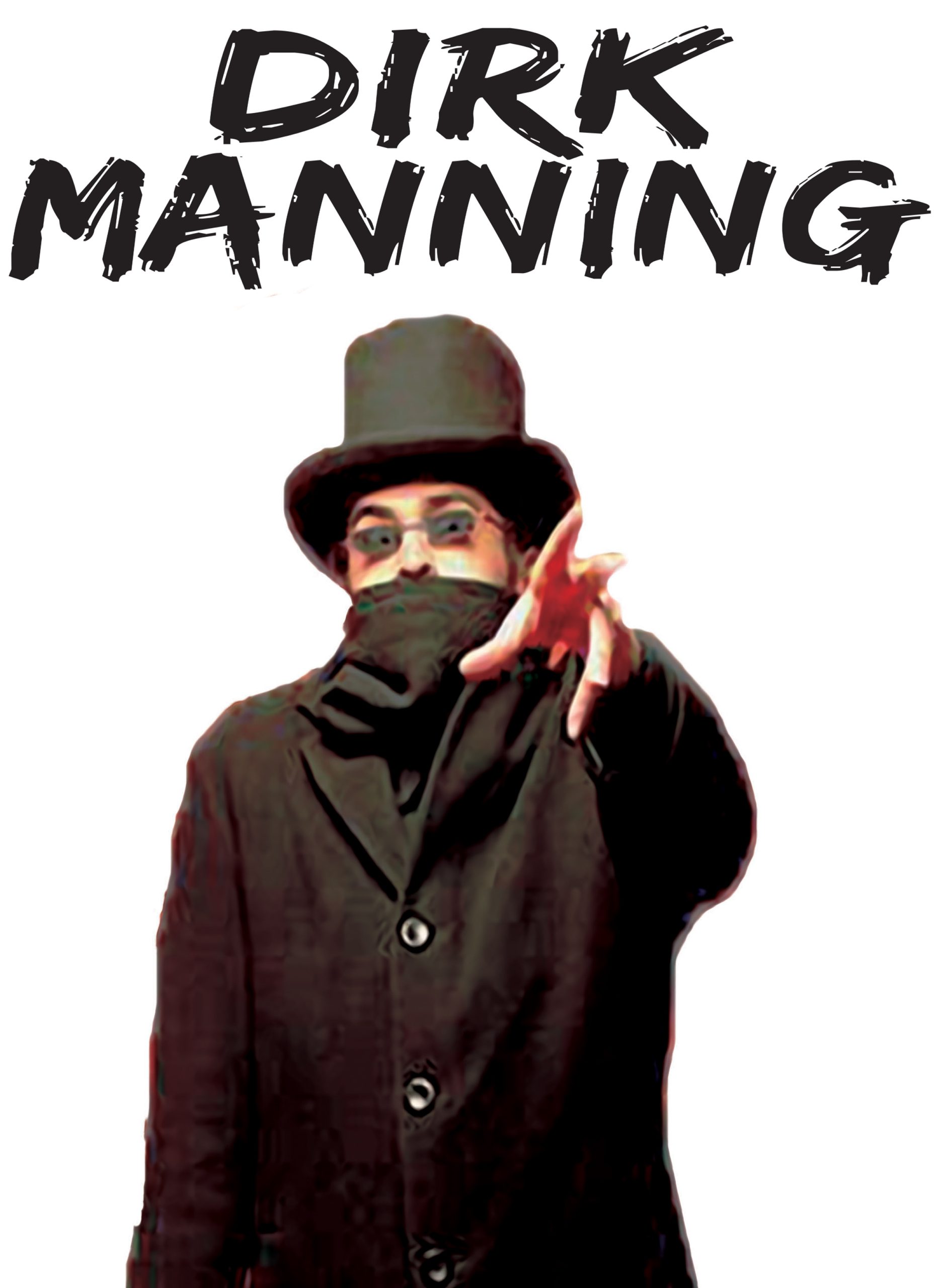 Dirk is also the author of the inspirational/how-to column turned book series Write or Wrong: A Writer's Guide to Creating Comics and has contributed several short stories to the RPG game series Clockwork: Dominion for Reliquary Game Studios.
His screenplay writing credits include the YouTube horror series Blackbox TV episode "The Hunger" (directed by Drew Daywalt and featuring Bonnie Aarons and Jon Gries).
When not at his desk writing, touring on the comic convention circuit, and/or sampling his way across the best ice cream shops in the world, Dirk can be found online at www.DirkManning.com and on most social media platforms as @dirkmanning.
He does not wear a top hat and scarf in real life.
MWW board member and publicity chair, Leah Lederman, has interviewed the faculty for MWW21. Today, meet Dirk Manning, writer and creator of comic series who discusses his writing and what he will present at our virtual summer conference.
Dirk's MWW21 sessions:
"Creating Comics by the Numbers" — This is a technical-based presentation about how to create comics, including panels per page, words per balloon, balloons per panel–but also gets into the sales and costs of creating comics, too.
Panel: "To Agent or Not to Agent" — Angela Jackson-Brown, Pam Mandel, Dirk Manning, Allison Joseph
MWW: In previous discussions on writing, you've mentioned Harlan Ellison's quote "Write angry." You've also used the medium of comics to cover a great range of experience and emotion. Can you tell our readers about the ways comics are a platform for delving into the human experience?
DM: As a writer who lives primarily in the horror genre of the comic medium, one of the things I always seek to do is write stories that people will feel when they're reading them, remember after they've read them, and want to revisit upon remembering them… and all that is dependent on creating an emotional connection to the theme, scenarios, characters, and/or stories being told with a combination in words and pictures.
That may sound a little academic, but that's only because there's a science writing a good comic story that resonates with people. As you said, I often quote Harlan Ellison's "Write angry" mantra, because I think as a writer – especially in the comic medium – your passion can translate to the artist you're working with, and then through to the reader, too.
Every story in the human experience is rooted in some sort of emotional resonance, and I am honored to be able to create that experience through comics.
MWW: You are the ultimate "Road Scholar." I remember your three-part article, "15 Shows in 15 weeks" What are a few pieces of advice you can give for people trying to get their work out there, whether online or in-person?
DM: First, know your brand. Know what you offer, because that's how you're going to find your tribe. Don't try to be all things to all people. As we just discussed, I'm primarily a horror comic guy. I have a few variations and exceptions… but that's mainly what I do, and I own that. That's how I find my tribe: Other people who like scary stories told in the comic medium. That goes triple for how you represent yourself on social media and online.
Second, start local. I now have the honor of having done conventions and signing appearances from coast to coast and from the tip of the north to the bottom of the south. I didn't start there, though. I started by doing two conventions a year, each a few hours from my house, and I returned there again and again year after year to ply my trade and start to build-up my audience… my tribe… both in-person and online. It was years before I was able to grow my circle and recognition to the point where I could do things like "15 Shows in 15 Weeks" or be in Seattle one weekend and Chicago two weeks later.
Finally, be proud of what you're doing. Nothing is more off-putting than someone who criticizes or – even worse – apologizes for what they're offering in their work. Be proud of what you do, and be the only person who can offer it.
MWW: What do you most love about writing in comics? Conversely, what are some of your frustrations with the genre?
DM: The storytelling techniques (such as the impactful and interlocking juxtaposition of words and pictures) in comics are unique to comics, and it's one of the main reasons I love this medium so much.
My biggest frustration with comics doesn't come from the medium, but rather people's perception of it. Many people associate comics with "kid's stuff" or "superheroes." Those are genres, and comics are a medium – a method of delivering stories – rather than a genre. While stories about superheroes have held a lot of prominence in the comic medium in the United States for years, there are comics out there in literally every genre. I think more and more people are becoming more and more aware of that, but I'd like that to be common knowledge to everyone.
Oh, and it's possible to write comics and not illustrate them, too. I'm a writer – an author – and I work with dozens of extremely talented artists… but I don't draw myself, past perhaps occasionally sketching a scene or cover layout for consideration for the artist.
MWW: What authors inspire you most, comics or otherwise?
DM: On the prose side of things, Harlan Ellison is a big one for his passion, his output, and his fantastic ability to tell stories of the human condition and experience in fantastic speculative fiction settings. Ray Bradbury, Edgar Allan Poe, and Joe Landsdale also remain huge inspirations for me in regards to how well they demonstrate the power of the short story format. In fact, under that criteria, I'd also include Stephen King and Ellison again. Crossing into comics, Joe Hill remains a huge inspiration for how well he weaves between both prose and comics and demonstrates mastery of both mediums… And when we're talking primarily comic writers, Alan Moore is an unmatched master of the medium. I also greatly enjoy and remain inspired by the comic work of Robert Kirkman, Eric Powell, Mike Mignola, David Lapham, and Garth Ennis each for different reasons.
MWW: As a writer, what would you choose as your mascot/avatar?
DM: This may sound cheesy, but I think it's important for each writer to become their own avatar. I think all the best professionals in any line of work become their own brand… and I'd argue, by extent, their own avatar. In my career I took that to a bit on an extreme, creating a "Dirk Manning Avatar" using an illustration of a guy in a black top hat, scarf, and sunglasses as not only my brand logo, but also my author photo almost exclusively for two decades – to the point where people have thought that I walk around in an outfit like that. (Spoiler: I don't, and never have aside from at a Halloween party.)
I chose to make my mascot that personified Dirk Manning "character" because I didn't want my brand tied to any one book or book series I wrote. For example, Nightmare World was my first comic series, and it's one that not only remains a personal favorite of mine, but also an evergreen one in terms of publishing and sales to this very day. However, I never wanted to be just "The Nightmare World Guy" despite how good the series is. I wanted Dirk Manning to be a brand unto itself, the way Stephen King, Alan Moore, and many other authors are and remain.
So, to you up-and-coming authors out there, while perhaps you don't have to (nor should) take it to the extreme I did (and, to a lesser extent, still do), I think it's important to make yourself your own brand, and create a logo that's not only unique to you, but one that people will associate with you in person, on social media, and even on your books and associated products and merchandise.