MWW welcomes mystery author Larry D. Sweazy!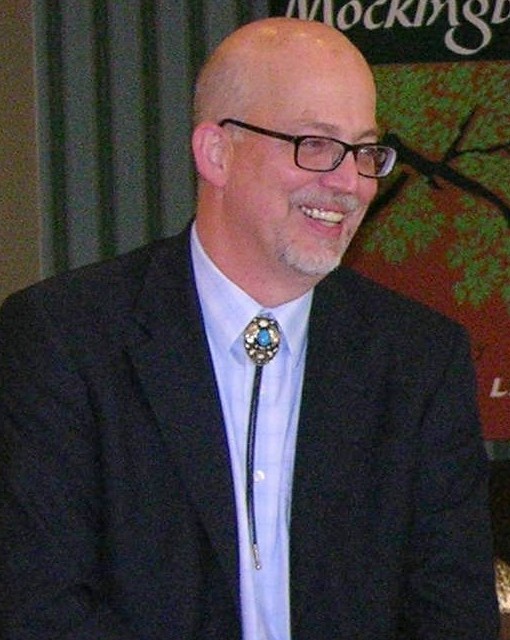 Larry is the author of 12 novels, including A Thousand Falling Crows, See Also Murder, Vengeance at Sundown, The Coyote Tracker, The Devil's Bones, and The Rattlesnake Season. He won Western Writers of America Spur awards for Best Short Fiction in 2005 and for Best Paperback Original in 2013. He also received the 2011 and 2012 Will Rogers Medallion Award for Western Fiction for the Josiah Wolfe series. He was nominated for a Derringer Award in 2007, and was a finalist in the Best Books of Indiana literary competition in 2010, and won in 2011 for The Scorpion Trail. He has published more than 60 nonfiction articles and short stories, which have appeared in Ellery Queen's Mystery Magazine; Boys' Life; Hardboiled; Amazon Shorts, and several other publications and anthologies. He is a freelance indexer and has written back-of-the-book indexes for more than 850 books in 19 years, which served as inspiration for the Marjorie Trumaine mystery series.
Larry is teaching an intensive session for Part I on Thursday, July 21, 2016.
It's A Mystery –
Some mystery novels are gritty and dark, while others are light and funny. No matter what type of mystery novel you are writing, all of them have basic elements that require attention and skill. This class will be part lecture, part workshop, with plenty of room for discussion with multiple award-winning author Larry D. Sweazy about characterization, plot, setting, fair play, writing a successful mystery series, and much more. 
MWW committee member Cathy Shouse interviewed Larry about what he will teach at this summer's conference.
MWW: What does it feel like to have such a complimentary, starred review by Publisher's Weekly for See Also Murder? … "[A] terrific first in a projected series… The characters are superbly drawn, and the prairie–its flatness, winds, and critters–is an evocative character in its own right."
LDS: It's always a good day when an author gets a great review like the one in  Publishers Weekly. It means the book might get a little extra push into the world and make it easier for readers to find. This review was especially gratifying.  See Also Murder, and the series as a whole, was a huge risk for me to write. I had previously published paperback Westerns, a naturally perceived male-dominated genre. My main character in this series is a middle-aged woman who lives on a North Dakota farm in the mid-1960s. My publisher, Seventh Street Books, took a huge leap of faith, too, with the series idea and me. The fact that Marjorie has been well-received helped to validate that risk and what I have believed all along: There are no limitations to what a writer can, or should, write about. No one should ever tell a writer that they can't at least try to write something outside of the box. If I had told myself that I couldn't write in Marjorie's voice then I would have shortchanged myself as an artist, and, most importantly, the readers who have enjoyed her stories.
MWW: Please provide some details for the intensive class on mystery writing that you'll present Thursday. What kind of information will you provide? Will there be writing in class? 
LDS: I learn the most in classes that are interactive.  I like a little bit of lecture, learning from the experience of the instructor, then applying the lessons, and finally, talking about what we have learned. I hope to balance those elements in this class. Yes, there will be writing. Students should be prepared to work, but I also know that everyone has some burning questions that they want to find the answer to, so discussions are important part of my classes. We all have something we can learn from one another.
MWW: Give us a thumbnail sketch about how you landed in the mystery genre. With so many different sub genres, how would you describe yours and how is it faring in popularity these days?
LDS: I've always read and loved mysteries, even though I got my start in the Western genre. If one thinks about it, there are plenty of mystery elements in a Western. There's usually a crime of some kind, which in turn demands a law enforcement character to set the wrong back to right. My first five novels were Westerns, then I published a modern-day mystery (set in Indiana), a few more Westerns, then to where I am now, which is writing all mysteries. I would argue that a majority of my novels have been mysteries. They were just shelved in a different section. I think the mystery genre is as healthy as it's ever been. Readers seem to have an insatiable appetite for murder, mayhem, and ultimately justice, which is the reason we read mysteries in the first place.
MWW: What has been your most memorable career experience, or just the award you are most proud of?
LDS: That's an interesting question. I've been lucky with awards and good reviews. I'm happy that I get to write every day and that readers seem to enjoy what I do. I recently received a letter from a reader who read my books while she took care of her elderly mother. My books, she said, provided an escape and some much needed entertainment from a dreary and hopeless situation. To know that your work moved someone, took them away to a different place, and gave them a little relief from reality is what writing and storytelling is all about. I'm proud to know that I did my job as a writer for that reader. Honestly, that's as good as it gets.
MWW: What would you say to those on the fence about coming to your intensive, those who are perhaps nervous about their skill level or how much value an in-person class can offer them?
LDS: I attended this workshop over twenty years ago. I remember what it's like to be starting out. What I remember the most about my early workshop experience is that it was encouraging and safe. I was surrounded by people who wanted to see me succeed. I had something in common with everyone there–the aspiration to become a writer and to improve my craft. The faculty was approachable and generous, willing to share their knowledge no matter how successful they were. Making the commitment to come to a workshop like MWW is huge, not only financially, but emotionally. Perhaps it's the first time a person has put their dream out for public view, or shared their work with a room full of strangers. It can be scary, but it can also be a gratifying and instructive experience to get honest feedback, and to see a path that will allow the dream to become a reality. It did for me.
MWW: Anything else to add?
LDS: I say this all of the time. Dream big. Work hard. Never give up. Do those three things and you'll be surprised at what happens. What are you waiting for?