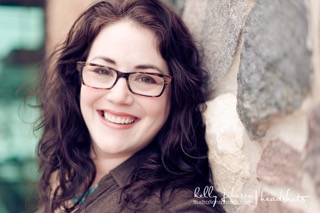 Amy E. Reichert
 loves to write stories that end well with characters you'd invite to dinner. A wife, mom, amateur chef, Fix-It Mistress, and cider enthusiast, she earned her MA in English Literature, spent eight years in the technical writing mines, and currently serves on her local library's board of directors. Her debut,
The Coincidence of Coconut Cake 
(Gallery, 2015), was called "clever, creative, and sweetly delicious" by
Kirkus Reviews
. Her second book,
 Luck, Love & Lemon Pie
, will follow on July 12, 2016.
Amy and Karma Brown are co-teaching the Part I intensive session Women's Fiction, Deconstructed. [NOTE: openings still available!]
In this session we'll discuss the genre's definition and scope, common (and often overused) tropes, and what makes Women's Fiction such a vital part of the publishing landscape. The workshop will explore different writing styles seen in Women's Fiction, tips for your own writing, and ideas for helping your story stand out -including characterization, pacing, and conflict. Pre-Work: Before the day of the intensive, please read FOREVER, INTERRUPTED and MAYBE IN ANOTHER LIFE by Taylor Jenkins Reid so everyone is familiar with and able to discuss the same examples. For those with complete story ideas, you're welcome to submit a 2 page, single-spaced synopsis to Karma and Amy, along with your first 250 words by July 1 (midwestwriters@yahoo.com/subject line: Women's Fiction Intensive). All submitted synopses and writing samples will be given feedback, and a few will be discussed in class.
MWW committee member Cathy Shouse recently interviewed Amy about what her MWW session attendees can expect, and so much more.
 *  *  *
MWW: Your debut novel, The Coincidence of Coconut Cake received sparkling reviews, including Booklist saying that "Well-developed secondary characters and detailed descriptions of the Milwaukee food scene will leave readers hungry for more." Your second book, Luck, Love and Lemon Pie, and will come out on July 12. Kirkus Reviews wrote: "An enjoyable and thought-provoking exploration of a modern day marriage in midlife crisis."
Tell us what it feels like to see those kinds of reviews. And given that you're from Milwaukee and a food lover, will your intensive at MWW include ways for writers to incorporate their own interests in their books? What should attendees to your class expect? Lecture? Writing exercises?
AER: When I see reviews like that I feel relief that the themes I was trying to explore came through successfully on the page, at least to one person. And the intensive I'm teaching with the lovely Karma Brown will absolutely touch on incorporating personal passions into the story. Participants should expect to leave with a better understanding of Women's Fiction, its place in the publishing world, and how to use that knowledge to improve their own storytelling. At this point, it will be mostly discussion and lecture, with the emphasis on discussion.
MWW: Please provide a thumbnail sketch of your road to publication. Next, if MWW was a part of your journey to getting published, what ways did the conference help you?
AER: The quick version of my path was write CAKE, revise it, query, get rejections, meet writing friends, learn about writing and everything I was doing wrong, revise, query, get more rejections, learn more about writing and repeat for 14 months until I finally had a presentable draft and signed with my amazing agent (who will also be at MWW), Rachel Ekstrom. She found me in her slush pile. I revised again, then we took CAKE on submission for about ten months when my fantastic editor, Kate Dresser at Gallery, snapped it up. While I didn't meet my agent or editor at MWW, I did meet most of my close writing friends. Without their knowledge and support, I wouldn't be where I am. MWW is great for soaking up knowledge, but meeting other writers and sharing experiences is almost more valuable. I look forward to this event every year!
MWW:  What is the best piece of advice or three you've ever been given about writing or a writing career?
AER: 1. First drafts suck. Accept it, then finish it so you can start making it better.  2. Don't read reviews! When you're immersed in the publishing world, everyone you know reads and leaves reviews, but the vast majority of readers don't. And you can't change a bad review, so why torment yourself. That being said, I will occasionally fall down this rabbit hole.  3. The publishing world is a small one. Professionalism, honesty, and kindness will serve you very well.
MWW: In conclusion, what are your responses to the following quiz?
MAC or PC?
Pantser or plotter, (meaning do you just start writing or do you plan/outline)? (For fiction)
Plotter. The more I know about where my story is headed, the more layers I can incorporate in a first draft.
Scrivener (or fancy fill-in-the-blank software) or Word?
Scrivener, though I will switch to Word once my editor and I move into copy edits because we need to keep track of the changes.
Early bird or night owl?
Night owl. Mornings are loathsome and horrible, only made better by the existence of coffee (and I'm so excited there will be a Starbucks at MWW this year). I also do my best writing between 9 pm and 1 am when everything is quiet.