Dani is one of eight literary agents participating in the MWW Agent Fest Online, October 13-16.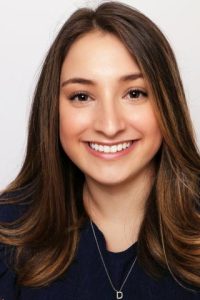 Born and raised in Minneapolis, Dani is a graduate of Boston University's College of Communication, where she studied journalism and political science. She has been a voracious reader for as long as she can remember. Dani began her publishing career as an editorial assistant at HarperCollins Publishers, focusing primarily on highly designed nonfiction titles. She currently works as a literary agent at the Carol Mann Agency.
Wish List:
Dani hopes to work with authors from diverse backgrounds to tell stories that are important to them. Her typical preferences include literary and contemporary fiction, memoir, narrative nonfiction, and popular culture. Find out more by following her on Twitter.
Dani will present the session "The Do's and Don'ts of Querying Agents." She is also a member of the Query Letter Critique Team, which offers (for an additional fee) the opportunity to meet for a 10-minute one-on-one consultation to discuss your query letter AND the first page of your manuscript.
MWW: How often do you get a pitch that you later wish you had accepted, or you wish they'd pitched again after revising. Do you have any insight as to how they could have better pitched their work?
DS: I always want authors to pitch me again after they've revised! It shows that they are willing to put in the work and are dedicated to the story. A tip I always suggest to writers is make sure to add comp titles to your query letters.
MWW: What do you hope for when tackling the slush pile? What are you tired of seeing?  
DS: I always hope to find a query letter that completely captures my attention. I'm lucky that I've found some incredible manuscripts in the slush pile. I'd also love to see more authors from diverse backgrounds tell their stories. I don't typically represent sci-fi or fantasy stories, so I'm not the best agent to query for those genres.
MWW: What's something that comes out soon that you're excited about?
DS: I am so excited for Hanya Yanagihara's third novel, To Paradise.
MWW: What's your favorite book, or favorite kind of book to read?
DS: I truly love reading a variety of stories. A fun rom-com, a mesmerizing memoir, or a fantastic cookbook. I love them all!
MWW: What's the primary message you want attendees to take home from your Agent Fest session?
DS: Getting a book published is not an easy journey. Authors that are smart, dedicated, and passionate about their writing always stand out.