Meet fiction author Melissa Fraterrigo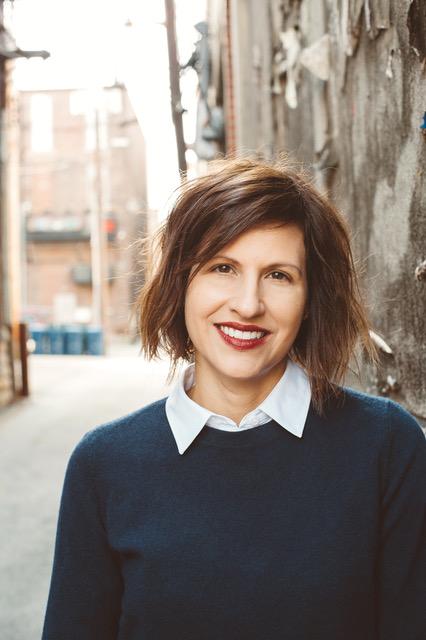 Melissa Fraterrigo is the author of the novel  Glory Days  (University of Nebraska Press, 2017) which was named one of the Best Fiction Books of 2017 by the  Chicago Review of Books ; she is also the author of the short story collection  The Longest Pregnancy  (Livingston Press). Her fiction and nonfiction have appeared in more than forty literary journals and anthologies from Shenandoah  and  The Massachusetts Review to story  South , and  Notre Dame Review . She teaches classes on the art and craft of writing at the Lafayette Writers' Studio in Lafayette, Indiana.
During MWW19, July 25-26, Melissa will teach " The Write Start: Cultivating Creativity."  In this session, Melissa explains, "You will learn how to turn your love for the written word into practical experience. Whether you are new to writing, have an idea you are interested in pursuing, or write regularly but need a reboot, in this class we will explore how to live a more creative life."
On Friday morning, Melissa will teach " Finding Your Personal Essay Through Play" where participants will discover how form can be used to structure personal essays to reveal unexpected insights and create momentum through play. In the afternoon, she will present " Exploring the Novel-in-Stories." She asks, " What do  Olive Kitteridge  by Elizabeth Strout, Cathy Day's  Circus in Winter  and  Winesburg, Ohio by Sherwood Anderson have in common?" The answer: All are novels-in-stories, existing between a collection of stories and a novel. Those attending this session will leave with a clear idea of possible linkages in their fiction and how to build upon these for their own linked collection.
MWW alum and volunteer Stephen Terrell asked Melissa a few interview questions to help us learn a bit more about her as a writer and faculty member.
MWW: When did you first know you wanted to be a writer?
MF: I have always loved writing and penned my first book when I was in the first grade. It was called "The Littlest Pukin" (I think I was inspired by "The Littlest Angel"; pukin was actually supposed to be pumpkin) and I can still remember how glorious I felt flipping the pages of my book, showing it to my parents. I always felt a kinship with words and stories and in many ways, I think I was destined to work with stories in some fashion; only it took me a long time to get to where I am. Despite that, I've got to say I have the best job in the world.
MWW: What is the Lafayette Writers Studio?  How did it come about? What do you want people to know about the Lafayette Writers Studio?
MF: I taught high school and junior high English for three years after earning my bachelor's degree. My first job out of college was teaching high school English in a small town in downstate Illinois where the job prospects were few and many of my students were from families that were struggling both financially and emotionally. I really liked my students and loved talking to them about literature, but during that year my grandmother passed and I did some hard thinking about how I wanted to spend my own days. I hadn't forgotten the desire to be a writer, only I didn't know how to be a writer and also pay bills.

Somewhere during that first year I told myself to just start writing–just a little bit. I found the more I wrote, the more I enjoyed it. That summer I took at class at the University of Illinois at Chicago–my first fiction class–and met two other women who were also interested in fiction and poetry. For three years we met on a monthly basis to share work with one another and offer each other feedback. I have no doubt that without their support I would not be where I am today. Writers need other writers, and these two friends provided the support and encouragement I so desperately desired.

I love my parents with all my heart, but they were children of parents who survived the Depression. Working toward a degree that would get you a job, which in turn would pay some solid salary mattered more than doing work that fulfilled. Fortunately, I listened to my gut and kept writing, following the thrum of excitement I felt each time I drafted a new story or had an idea for a piece.

I attended Bowling Green State University and met a fantastic cohort of writers and instructors of writing–most of whom I'm in contact with today. This community of writers was essential for building the "literary family" that I craved–folks who were also driven to create worlds from their imaginations. We encouraged each other and continue to do so.  I taught at Southern Utah University, Penn State Erie–all the while working on fine-tuning my short story collection, The Longest Pregnancy was published in 2006. With time, I shifted into freelance writing for different universities. However, I still missed teaching and three years ago established the Lafayette Writers' Studio to combine my love for teaching with my desire to help others tell their stories. I started my forthcoming novel, Glory Days a few years before I opened the studio.

The Lafayette Writers' Studio is a place where writers of all experiences and backgrounds can learn about the art and craft of writing in an intimate, encouraging environment. We offer a range of classes from one-night intensives to workshops that last several weeks. It's really a wonderful place with amazing students from all walks of life.
MWW: Working at the Lafayette Writers Studio, what are the three biggest suggestions you have for writers looking to improve their craft?
MF: I encourage writers to read like a writer, and approach texts seeking answers to the questions they have about their own work and craft in general. Every writer is different and as such, no one approach is going to help each and every writer get words on the page. As a result, I encourage students to take the time to get know themselves and their process.
MWW: Can you compare the process you go through in writing a short story compared to a novel? What makes one story more appropriate for a short story and another suitable for a more extensive treatment in a novel?
MF: My first book,   The Longest Pregnancy,   was published in 2006. About 1/3 of the book was written as part of my graduate thesis at Bowling Green State University. The stories really were stand alone pieces and I was nearly finished with the book before I started to see how they might fit together. I started my novel,  Glory Days   a few years before I opened the Lafayette Writers' Studio and the first chapter I wrote for the book–"Teensy's Daughter" actually appears ¾ of the way through the book. I initially thought I was just writing a story, only after I finished drafting "Teensy's Daughter" I continued to think about three of the characters–Gardner, Teensy, and his daughter Luann. So I wrote another story with Gardner and Teensy at a much earlier part in their lives and found that I still had more to uncover. I was absolutely fascinated by these characters and once I realized how the town of Ingleside was a part of the conflict of the book, I knew there was a whole novel to be unearthed. So to answer your question, I really think it begins with the author's own interest in the story and whether it can be sustained.
MWW: How do you channel real life experiences in your fiction – or do you? 
MF: I keep a small notebook with me at all times and jot down ideas whenever they strike–it could be an arresting image or a word or lately, a lot of memories from my own childhood. Some writers call this rich content "composting." Just like you might mix together certain ingredients to make a soil healthy, you can use elements of your life and what you find interesting to create memorable characters and situations.
MWW: What are the most satisfying aspects of writing for you? Conversely, what are the most frustrating or difficult aspects of being a writer, and how do you cope with those issues.
MF: I love revision, I love the thrum of a new idea, I find structure immensely satisfying and there is nothing better than discovering a new writer who fuels my work. Yet the days are long and can be rather lonely. It's important to surround yourself with other writers who can support and encourage you when the work isn't going the way you initially envisioned.
MWW: I've seen Glory Days referred to as "Fly Over Fiction," a term I've heard applied to other writing about middle America. Yet when I look at the wish list of literary agents, I never see "flyover" or "middle America" mentioned. Given that this is the Midwest Writers Workshop, do you think there is a place in the current fiction market for "flyover fiction", that is, fiction that has its roots in the people, places, challenges and values of middle America? 
MF: I actually think there is an increasing interest in the Midwest as a place with its own identity, culture and values, which is quite separate from the coasts. That being said, I don't sense that flyover fiction or Midwest literature is a concern of the big publishing houses. But smaller indie presses such as Nebraska University Press , Graywolf, Coffee House Press do not offer huge advances and therefore don't have the same constraints as large publishing houses so they can pursue topics and approaches that appeal to different audiences, and this includes a newfound interest in work that is often overlooked such as flyover fiction.
MWW: Rejection is the most common shared experience among most writers. Do you have any advice for dealing with rejection from publications, agents or publishers? 
MF: I think it's always important to keep in mind why you are writing. Are you writing because you want to become rich and famous? Are you writing to prove to your high school English teacher that you had more potential than the C- he gave you your sophomore year? While all of us dream of sharing our work with a wide audience, I think it's much more realistic to think that the results of our efforts may not play out the way we imagine. The work you do must be the reward–publication, awards, all of those moments when you and your work are in the spotlight are fleeting. But the work is with you for the long haul. Try not to focus to much on those outside forces you cannot control and instead honor your relationship with your craft and your writing.
MWW: What is the best piece of advice you have ever been given about being a writer or about life in general?   What was the worst?
MF: Read everything you can get your hands on and don't just read your genre–everyone should read poetry! Write! Put yourself on a writing schedule and commit to writing regularly. Even if you are only sitting at your desk twiddling your thumbs, the longer you sit there, the more ideas will come to you. As you begin to take note of those thoughts by jotting them down or mulling them over in your mind, your brain will send you even more ideas. Writing begins with paying attention to your world and your surroundings and choosing to be curious with your own thoughts and reflections. I think writing helps you be your best self-at least that's what it continues to do for me.
MWW: Any last thoughts or comments that you want to share with those considering the MWW19?
MF: Come write with us!
Come to MWW19 and meet Melissa! Register here.