Jolene Haley is one of eight literary agents participating in the MWW Agent Fest Online, November 18-21.
Check out Jolene's Wish List!
Broad range of MG and YA: especially contemporary, mystery, magical realism, romance, and horror.
Adult fiction: commercial women's fiction, romance (all subgenres), mystery/crime, horror, and immersive literary fantasies.
Nonfiction: lifestyle, health, wellness, self-help, spiritualism, and true crime.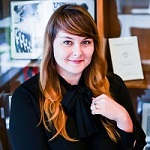 Jolene Haley joined the Marsal Lyon Literary Agency in 2020 and has been in the publishing industry since 2012. She has worked for literary agencies and publishers like The Bent Agency, Corvisiero Literary Agency, Entangled Publishing, and Swoon Romance, and has an extensive background in marketing. Her well-rounded experience provides a unique perspective and a solid foundation to support authors as they build their careers.
Jolene represents middle grade, young adult, and adult fiction. She is drawn to original concepts, compelling characters, and stories with plot twists that keep her guessing. In all genres, she welcomes diverse stories and characters that reflect the world we live in. She graduated with accolades from Cal State Fullerton with a Bachelor of Arts in English Literature and Composition. She runs a global horror writer's resource site The Midnight Society and is a member of ALA, HWA, and SCBWI. Follow Jolene on Twitter or Instagram.
MWW agent assistant Amanda Byk interviewed Jolene about her life as an agent and about coming to MWW Agent Fest. Amanda graduated from Ball State University with a B.A. in English with a concentration in creative writing. She is a copywriter for Dealer Inspire out of Naperville, IL. She enjoys writing historical fiction and nonfiction and hopes to return to school for a Masters in Fiction.
MWW: How did you become an agent?
JH: I always knew I wanted to work with books. I joined the publishing industry in 2012, while earning my English degree. I started as an assistant who worked across teams at Entangled Publishing. This experience led me to taking on new roles in marketing, editing, and publicity teams at different publishers. Working for publishers was fantastic, but I was drawn to agenting.
I joined The Bent Agency as an intern and worked my way up at agencies until I became an agent. In 2020, I joined my dream agency, Marsal Lyon Literary Agency, as a literary agent. Working alongside fantastic agents like Kevan, Jill, Patricia, Shannon, and Deborah is a dream. I feel grateful to champion amazing authors and that my job is to help bring stories into the world!
MWW: What are a few tips you would give to writers? What are some tips you have for writers on approaching agents?
JH: My best tips for querying writers are simple.
Polish your book. Send your work when it's done and not a moment sooner. You want the agent to see your best work when you query. Research book length, nail down your genre, write a polished query, and ensure that your manuscript is free of typos and grammar issues. There are fabulous free resources online to guide first time queriers, and by submitting polished work, you're automatically setting yourself apart from other submissions and giving yourself a competitive edge.
Follow submission rules. Most agencies and agents share their submission guidelines. Please follow them, as they are the best way to ensure that your query is seen, considered, and responded to.
Don't give up! Querying can feel hard. Putting yourself out there can be scary. But the payoff is worth it when you find the perfect agent for you and your work. Every query pass is one step closer to your future offer of representation.
MWW: What kind of manuscript do you favor/what kind do you hate getting?
JH: On my website, visitors can find submission guidelines and my wish list. I do this to help writers decide if I am a good fit for their work and to share more about my reading preferences. I currently accept middle grade, young adult, and adult manuscripts. In these age categories, I'm seeking a wide variety of genres, but my current favorites are horror, thrillers, mysteries, and romance.
There is not a type of manuscript that I hate to receive, however my wish list shares the type of work that I am not a great fit for, such as high fantasy, military thrillers, and pandemic stories. No matter what, I read every query and consider each submission that I receive.
MWW: What questions should new authors ask during the first meeting with the literary agent?
JH: I firmly believe that when meeting with an offering literary agent, authors should ask anything that they want to know about the agency, the agent, their agenting style, and their vision for the manuscript. Don't be shy! For example, a great question for an agent is to describe their agenting style. If you feel like it's important to have an editorial agent, and the agent shares that they are not editorial, you may not be a good match.
Here are four great questions that might be helpful to know before you make your decision:
How does the agent communicate with their authors?
Will you be working with the agent directly or with another agent/assistant?
What types of changes do you think need to be made for your book? What is their editorial vision?
What are the next steps after signing?
I have additional resources on my website, under the Writing Resources tab.
MWW: At the Agent Fest, you have a presentation on Building Your Author Platform to Elevate Your Career. How important would you say an online presence is and why?
JH: In my opinion, it is critical for authors to have an online presence. When I say that, I don't mean that you have to make 20 social media accounts and spend all day posting instead of writing.
What I mean is, one of the most effective ways an author can have an effective online presence is through a website. Readers, editors, and agents need a place that they can go to learn more about you. Visitors should be able to find your agent information, a media kit (author photo and biography, at least), and book information with buy links. Of course, there are additional ways to optimize your presence online, but a website is a great place to start.