Meet Jenniea Carter
H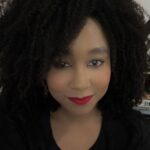 arlem born and raised, Jenniea always found herself surrounded by books. Whether it was teaching English abroad in Japan or working at Kinokuniya Bookstore, literature was always a topic Jenniea was eager to discuss. She soon found herself home at New Leaf on Joanna Volpe's team where she is now an Associate who is eager to uplift and amplify marginalized voices. When she is not between the pages of a book, Jenniea can be found bingeing mystery documentaries and animation.
Jenniea will teach "What Happens During the Author/ Potential Agent Call?" and participate in Wednesday evening's "First Page Read – Love It or Leave It, "Okay, Stop." Look for her on our Query Letter Critique team!
Wishlist
Jenniea is happy to say that she is building her list and is looking for romance, YA, speculative fiction, middle grade and women's fiction. Visit her MSWL for more details.
Q&A with Jenniea
MWW: What should a writer do if a pitch results in a request for pages?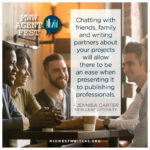 JC: Be proud and then read their project one more time before sending. They should also alert other agents that they queried that a full has been requested by an agent. Other than that, do not stress and work on other projects.
MWW: Tell us about a time, if you can, when a query grabbed you but the manuscript didn't meet the expectations? Why do you think that disconnect was there?
JC: A good query can set up a lot of expectations in a project. When the pitch is great, and the comps are perfect, a reader will go into the pages sometimes expecting the delivery to be well tailored. This has happened to me a few times and the situation becomes sticky. Either the writer has loose threads or missing pieces that can be addressed in a revise and resubmit or the project is totally different from the pitch. With the latter, I have to step away from the project because the writer does not yet know their own writing yet.
MWW: How do you recommend getting over "pitch anxiety"?
JC: In my opinion the best way to get over "pitch anxiety" is practice. When something becomes second nature to you then it'll feel natural to chat about it with others. So starting out by chatting with friends, family and writing partners about your projects will allow there to be an ease when presenting it to publishing professionals.
MWW: What's the best book you've read this year?
JC: I don't have a best book of the year but I am currently reading and enjoying Forged By Blood by Ehigbor Okosun.
Secure your spot today!
REGISTER HERE
MWW is dedicated to building a community where writers can network with others and grow.