MWW Virtual One-Day Conference with Jane Friedman
How to Get Published: Traditional, Self, and Everything in Between
Saturday, March 27, 2021
Morning Session (10:30 am – 12:00 pm EST) Traditional Publishing
Afternoon Session (1:30 pm – 3:00 pm EST) Self-publishing (and alternatives like hybrid publishing)
Cost: $79 early bird; $99 after February 28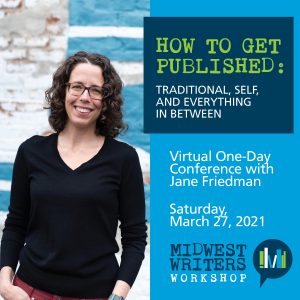 In this masterclass with publishing industry expert Jane Friedman, you'll learn not just the foundational principles of getting a book published, but gain up-to-date insight into the changing landscape of the publishing industry, and how you can navigate your own path toward success. You'll discover what it takes to capture the attention of a New York publisher or literary agent (whether you write fiction or nonfiction) and how to determine if self-publishing, hybrid, or traditional publishing is the most appropriate path for your next project. Can't attend the sessions live? No problem. MWW is offering archival video access for three months to ALL registered attendees.
This class will cover the following:
Querying like a pro. Your one-page query letter should be short and sweet and pack a punch. Learn what it means to sell your story, and how to avoid problems that plague (and sabotage) writers in this critical document.
Whether you need an agent—who they are and what they do. You'll learn what the standard agenting practices are and why you might want one—and how to make sure you don't get involved with a bad one.
Researching markets (agents and editors) for your work. We'll look at the major tools and resources for identifying the right agent or publisher for you.
Explore traditional publishing options outside of New York. The world of independent publishers—including university presses, small presses, and regional presses—is vast and can sometimes be more challenging to understand than New York publishing, as they all operate a bit differently. Learn how to assess the strength and position of any book publisher.
How to decide if you or your book is well-suited to self-publishing—plus the major self-publishing services available, and how to choose the best channels, formats, and distributors based on your target audience and genre.
Learn how to decipher "hybrid" publishing arrangements now available alongside the key forms of self-publishing and e-publishing practiced today.
By the end of this class, you'll have a game plan for getting your book to market in the most efficient and effective way, based on your skills and target readership.
About Jane:
Jane Friedman has 20 years of experience in the publishing industry, with expertise in business strategy for authors and publishers. She's the editor of The Hot Sheet, the essential industry newsletter for authors, and has previously worked for F+W Media and the Virginia Quarterly Review. In 2019, Jane was awarded Publishing Commentator of the Year by Digital Book World; her newsletter was awarded Media Outlet of the Year in 2020.
Jane's newest book is The Business of Being a Writer (University of Chicago Press); Publishers Weekly said that it is "destined to become a staple reference book for writers and those interested in publishing careers." Also, in collaboration with The Authors Guild, she wrote The Authors Guild Guide to Self-Publishing.
In addition to being a professor with The Great Courses, Jane maintains an award-winning blog for writers at JaneFriedman.com; her expertise has been featured by The New York Times, The Washington Post, Publishers Weekly, NPR, PBS, CBS, the National Press Club and many other outlets.
Jane has delivered keynotes and workshops on the digital era of authorship at worldwide industry events, including the Writer's Digest annual conference, Stockholm Writers Festival, San Miguel Writers Conference, The Muse & The Marketplace, Frankfurt Book Fair, BookExpo America, and Digital Book World. She's also served on grant panels for the National Endowment for the Arts and the Creative Work Fund, and has held positions as a professor of writing, media, and publishing at the University of Cincinnati and University of Virginia.
In her spare time, Jane writes creative nonfiction, which has been included in the anthologies Every Father's Daughter and Drinking Diaries. If you look hard enough, you can also find her embarrassing college poetry.