MWW Virtual One-Day Conference with Jane Friedman
The Magical Marketing Trifecta for Writers
Saturday, February 26, 2022
Morning Session (10:30 am – 12:00 pm EST)
Afternoon Session (1:30 pm – 3:00 pm EST)
Cost: $79 early bird; $99 after January 31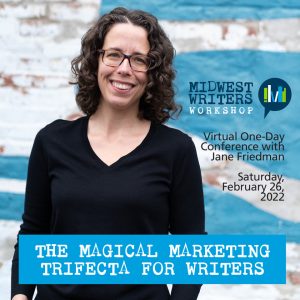 The Magical Marketing Trifecta for Writers
Most published authors have some kind of online presence, including a website and email newsletter or Facebook page, but they don't have a clue what it means to develop a cohesive, smart approach that integrates them all. For writers who want to see their online activity pay off, then it requires some high-level and strategic thinking about who that writing is meant to reach and who you want to attract over the long term. This seminar will look at key strategies and principles for using your website, online writing (such as blogging), email, and social media in concert with each other to better reach and engage readers, both new and old.
In this workshop, you will:
Uncover the principles and techniques for building a career and platform in a way that plays to your strengths, with special attention paid to lead generation (that is: finding readers).
Learn the concepts of "content strategy" and "marketing funnel" and why these are important to determining how you will use email, social media, and your website.
Understand how to use social media in a way that's supportive of your goals and not a distraction (the big secret: focus).
Find out why you should start building an email list today even if you think you have nothing to say.
Gain insight into the best practices of online writing (and/or blogging), especially headline writing, and how to get attention for what you write and post online.
Explore opportunities to grow your readership through collaborations, partnerships, and influencers.
For writers who would like to be smarter and more efficient about their online presence—and see that activity pay off—this seminar will push you to connect the dots between all your efforts and get your digital ships sailing in the same direction.
Can't attend the sessions live? No problem. MWW is offering archival video access for three months to ALL registered attendees.
About Jane:
Jane Friedman has 20 years of experience in the publishing industry, with expertise in business strategy for authors and publishers. She's the editor of The Hot Sheet, the essential industry newsletter for authors, and has previously worked for F+W Media and the Virginia Quarterly Review. In 2019, Jane was awarded Publishing Commentator of the Year by Digital Book World; her newsletter was awarded Media Outlet of the Year in 2020.
Jane's newest book is The Business of Being a Writer (University of Chicago Press); Publishers Weekly said that it is "destined to become a staple reference book for writers and those interested in publishing careers." Also, in collaboration with The Authors Guild, she wrote The Authors Guild Guide to Self-Publishing.
In addition to being a professor with The Great Courses, Jane maintains an award-winning blog for writers at JaneFriedman.com; her expertise has been featured by The New York Times, The Washington Post, Publishers Weekly, NPR, PBS, CBS, the National Press Club and many other outlets.
Jane has delivered keynotes and workshops on the digital era of authorship at worldwide industry events, including the Writer's Digest annual conference, Stockholm Writers Festival, San Miguel Writers Conference, The Muse & The Marketplace, Frankfurt Book Fair, BookExpo America, and Digital Book World. She's also served on grant panels for the National Endowment for the Arts and the Creative Work Fund, and has held positions as a professor of writing, media, and publishing at the University of Cincinnati and University of Virginia.
In her spare time, Jane writes creative nonfiction, which has been included in the anthologies Every Father's Daughter and Drinking Diaries. If you look hard enough, you can also find her embarrassing college poetry.