Join us for the 49th Midwest Writers Workshop
MWW22 Conference: Craft + Community
Thursday, July 14 – Saturday, July 16, 2022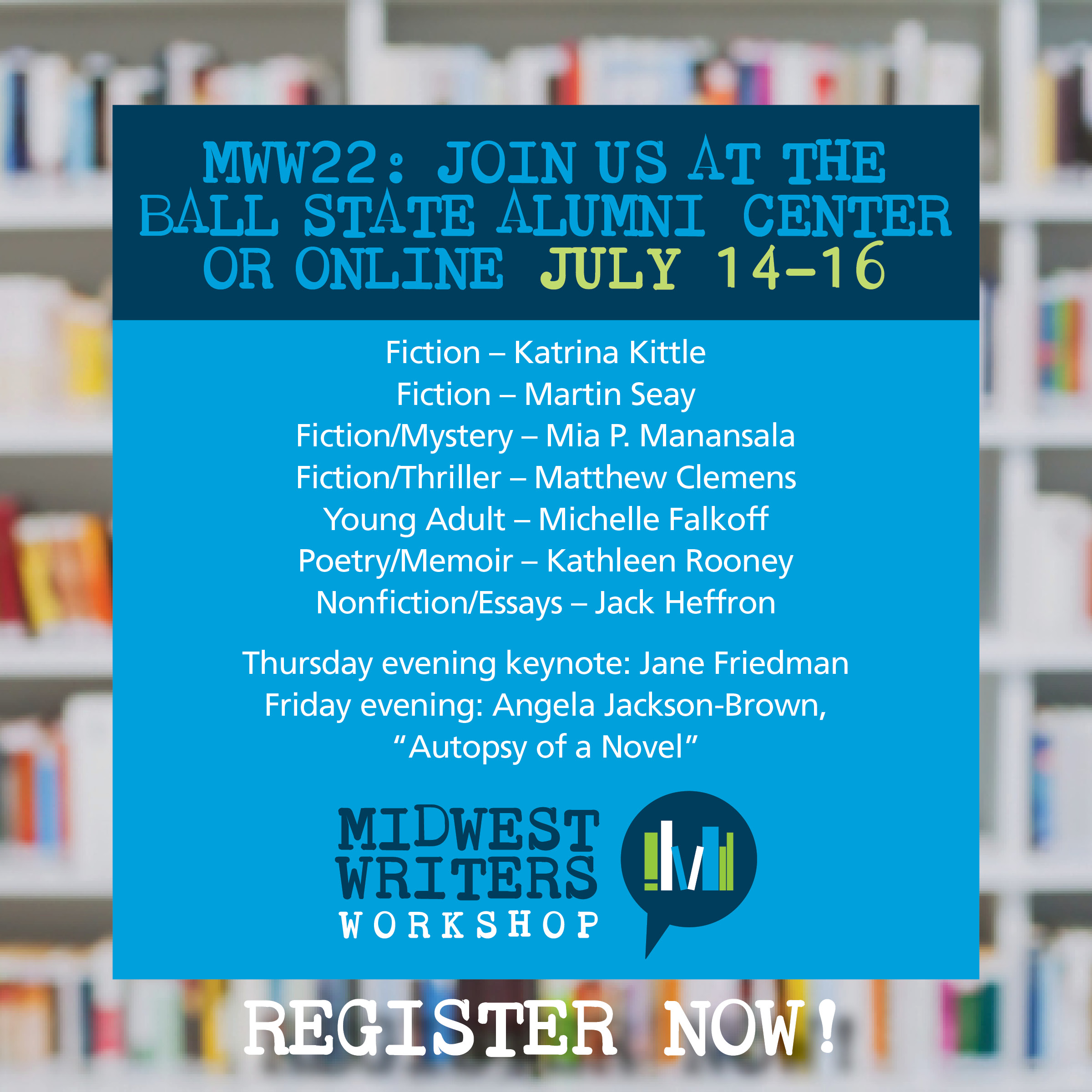 MWW22 is our first ever hybrid conference! This July 14 – 16, whether you attend in person or online (using Zoom), we have top-notch instructors leading interactive sessions, enlightening panels on vital topics, and networking opportunities to help you expand your writing community. Our keynote speaker is Jane Friedman! 
This version of MWW allows us to offer plenty of instruction, networking, and the sense of community that makes MWW so special. Come to Muncie, Indiana, and join us at the beautiful Ball State Alumni Center for our 49th writers' conference, or join us virtually wherever you're located.
Our hybrid MWW22 includes:
**In-person sessions and/or Zoom video conferencing that feature a variety of topics determined by each faculty member, writing prompts, and vital, informative, enjoyable discussions to build your skills as a writer.
**A remarkable faculty who know their stuff, providing information for aspiring writers at all stages of their journey.
**Instruction led by renowned faculty for the genres of:
Fiction – Katrina Kittle
Fiction – Martin Seay
Fiction/Mystery – Mia P. Manansala
Fiction/Thriller – Matthew Clemens
Young Adult – Michelle Falkoff
Poetry/Memoir – Kathleen Rooney
Nonfiction/Essays – Jack Heffron
Thursday evening keynote: Jane Friedman
Friday evening: Angela Jackson-Brown, "Autopsy of a Novel"
Why attend?
Do you dream of getting your story out of your heart and into a book? It's time to turn that dream into reality. We'll help you get those words onto paper and craft your story into a powerful offering.
That's the vision behind our mission statement and our passion to help writers. We're dedicated to maintaining and building our MWW writing community to nurture writers at every stage of their journey, giving them the tools they need to improve their craft and achieve their publishing goals.
MWW22 is designed to guide you to the next step in your writing journey. Whether you're a beginner with zero experience or you've been writing for years, you'll want the collective wisdom of our conference faculty. These authors will empower you to dream, write, and publish the story inside you. 
 **Private Facebook Group plus evening "Talkabouts" for camaraderie and to build connections with other participants and faculty.
**Can't attend all the sessions live? No problem. MWW is offering archival video access to ALL attendees for ALL sessions for three months following the conference.
The cost for our in-person MWW22 experience is $269 [reduced from $399!] 
No more having to choose among breakout sessions! Attend ALL sessions live or watch the recordings for up to three months later. This format encourages all writers to stretch beyond their genre and learn from every instructor.
We know that a writing conference can make your head with new information and inspiration when it's all over! Our hybrid setup gives you the chance to go back and revisit the sessions. That way you can catch any content that you missed, rewatch sessions you found particularly helpful, or get inspired all over again!
The In-Person Experience:
Manuscript evaluations

: Evaluation of your first five pages plus a one-page synopsis of a manuscript, completed or in progress. The $50 fee covers a 15-minute one-on-one in-person appointment during the conference.
Office Hour with each faculty: Have you ever wanted to sit with a published author and pick their brains on topics like: publishing, revising, or anything else that relates to becoming an author? This is your opportunity. You don't need an appointment, just drop in for these informal sessions with our faculty members.
Meal fellowship with participants: Sign up for lunches (pre-order when you register) and hang out with other writers at the Ball State Alumni Center. (See FAQ for details.)
Ball State Bookstore on-site vendor: Purchase books by our MWW22 faculty and Board. Get them autographed!
MWW Consignment Bookstore: If you're a published author attending in-person, you can sell your books at our consignment bookstore. (See FAQ for details.)
MWW merchandise: Take something home to commemorate your MWW22 experience!
Note* In-Person attendees will have virtual access to live sessions as well. Virtual attendees will have virtual access only.
The cost for our Virtual MWW22 experience is $199.
From the comfort of your home (think: pajamas!), enjoy sessions in real time, participating in a live chat with other writers who are joining virtually. Or tap back in later! Recordings of sessions will be available for three months after the conference.
Join us to be inspired and equipped for the next step in your writing journey!
Find the entire schedule: here.
Find the faculty bios: here.
Register HERE!