Meet award-winning author Angela Jackson-Brown
Angela Jackson-Brown is an award-winning writer, poet and playwright who teaches Creative Writing and English at Ball State University in Muncie, IN. She is a graduate of Troy University, Auburn University and the Spalding low-residency MFA program in Creative Writing. She has published her short fiction, Creative Nonfiction, and poetry in journals like The Louisville Journal and the Appalachian Review. She is author of Drinking From a Bitter Cup (WiDo Publishing, 2014), House Repairs (Negative Capability Press, 2018), and her latest novel, When Stars Rain Down, which will be published by Thomas Nelson, an imprint of HarperCollins, in the spring of 2021.
MWW board member and publicity chair, Leah Lederman, interviewed Angela about her writing and what she will present at MWW21.
MWW: As a writer, what would you choose as your mascot/avatar?
AJB: A worker bee. I am a productive writer because I am a hardworking writer who, much like the worker bee, realizes being a writer isn't, most times, a very glamourous job.
MWW: What was an early experience where you learned that language had power?
AJB: The first time I learned that language had power was when I wrote my first story. I saw the impact it had on the people I shared it with, especially my daddy. I realized then that storytellers have the ability to transport other people to another place, even if only for a short period of time.
MWW: What's your favorite takeaway from the session you'll be teaching?
AJB: Improving our writing skills can be taught. There are some aspects of writing that are innate and either the person has "It" or they don't BUT so much of writing can be learned if we are willing and open vessels. THAT is the one thing I hope everyone walks away believing. They can improve their writing skills. They just have to be willing to put in the hours/days/weeks/months/years needed to elevate their skill set.
MWW: Why do you think this is important for writers to consider in their own work?
AJB: Writers need to know that writing is not just this mystical act that depends on some mysterious muse. Writing is back-breaking, sweat-inducing work. Every day, to be successful at being writers, we have to show up and put in the effort it takes to take our work to the next level. It is not for the faint of heart.
MWW: How do you channel real life experiences in your fiction — or do you? 
AJB: I primarily write historical fiction, so I am constantly weaving in the historical past into my fictional worlds. I can't imagine writing without paying attention to what was happening when my novels are set. How do I write about politics in 1948 without mentioning Truman, Civil Rights and the Dixiecrats? Historical details are the bread and butter of any story, regardless of when it is set.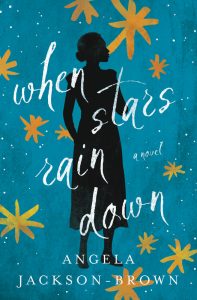 MWW: I've read Drinking from a Bitter Cup and can't wait for When Stars Rain Down. In your writing, what are some themes that arise again and again?
AJB: Family relationships and spirituality almost always show up in my work. If a writer knows the intricacies of their characters' relationships with other characters, then they have the tools to write a complex plot. Spirituality is something all of my characters grapple with because they, like us, are trying to figure out how they got here and what their purpose in life is going to be.
MWW: Do you deal with them differently in your separate works?
AJB: The outcomes are different but the strategies are the same in most of my work.