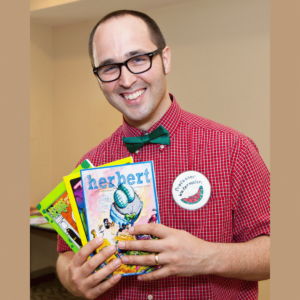 Chadwick Gillenwater (also known as Professor Watermelon) is an experienced school librarian, children's book author and creative writing teacher. Along his journey, he has collected the essential tools to teach his students the elements of writing for children. He knows what makes characters memorable, he understands what makes scenes and settings captivating, and he has discovered what simmers and twists a good plot. As Professor Watermelon, Chadwick has written three middle grade novels. He is on the board of the Indiana Writers Center, and he lives in Indianapolis with his husband, two dogs and one bearded dragon. www.professorwatermelon.com.
Chadwick will teach the sessions "Write Your Children's Book with all 5 Senses" and "Write Great Read-Aloud Picture Books." He's also on the manuscript evaluation team.
Q&A with Chadwick
We're so excited to have Professor Watermelon with us this year! If you've never attended one of his classes, it's a lively and informative performance–we highly recommend it. Chadwick takes his inspiration from nature and the five senses and reminds us to view the world with the wonder of a child.
MWW: What has inspired you to write for and work with young writers? What is most satisfying about it?
CG: Children live in a world controlled by adults. Depending on the situation, this can be great or really, really bad. Whatever the case, children are the most vulnerable people within our communities. That's why I write for them, and that's why I am a LIGHT for them. I like to write books where children are in the power seat. That's what children's literature is all about. Put a child in an extraordinary situation and let them figure it out – let them be the hero of their story. All great children's books are written with this in mind.
MWW: What can adults learn from the approach children take to reading and writing texts?
CG: Read what you want, and write what you want. It's really that simple. Allow your inner compass to guide you. Children seem to be more connected to this compass than us adults. We often write because we want to be published. Or we read something because we think that we're supposed to. When children are given the freedom to read and write what they want, they get absorbed into that exquisite world of imagination. There's no place like it! That's why I love working with children. They remind me that my inner compass still works.
MWW: What types of events or epiphanies have propelled you in your writing career?
CG: Writers benefit from being with other writers. We just do. Conferences, workshops and critique groups have kept me motivated throughout the years.
MWW: What is a common misconception people have about children's literature that isn't quite correct?
CG: There is a misconception that a children's book is easy to write. No one should begin writing for children with this notion. In order to write a children's book, you must be in tune with your inner child. If you aren't in tune with your inner child, you must be willing to get there. Children have great radars for preachy and didactic books. They don't like them. You are not writing "down" to a child. You are writing from a place that knows and remembers childhood. When you hit that groove, it's magical.
MWW: What are the best ways to pull from our senses not just as an aid in description but as inspiration for the story itself?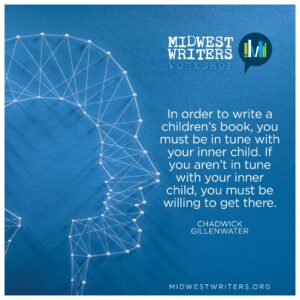 CG: I like to keep a journal just for story ideas. When I see, hear, taste, smell or feel something that inspires me, I write it down. I believe that there is a never-ending supply of ideas if we are receptive and aware of them. Here's an exercise. Go on an idea excursion. This could be a walk in the park, a drive down a country road with the windows down or anything else under the sun. Be intentional and pay attention to your senses. What sights, sounds, smells, tastes and feelings spark your imagination? When it's safe (especially if you are driving) write down your ideas. Do these ideas inspire the setting of a story? A character? A Plot?
MWW: Your turn! What question do you wish that someone would ask you about writing, but nobody has? Write it out and answer it!
CG: Most of your books are self-published. Do you ever wish you would've stayed on the path of traditional publishing?
There are a lot of gatekeepers in traditional publishing – agents, editors and other publishing house decision makers. A very small percentage of writers get through all of those doors. Who wants those odds? Not me. When I write a book, I like to know that it WILL be published. I'm not hoping and praying that someone will believe in me and my work. Afterall, if my book isn't that great, my readers will let me know. I'd rather my readers tell me that than anyone else. Please don't get me wrong. I love traditional publishing too. I just like knowing that there are more options.
Stay tuned! We've got more Q&As with our All-Star faculty members.
They will help you write your story!
EXCITING NEWS!
Midwest Writers Workshop will award a limited number of 
scholarships
 for participation in the IN-PERSON conference. Apply 
here
.
We're proud to present 
MWW50th Homecoming Day: Writing Matters
, a FREE one-day writing event featuring workshops and panels with our alumni. Learn more and register 
here
.

MWW is dedicated to building a community where writers can network with others and grow.