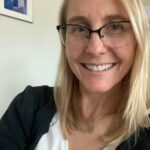 Liz Whiteacre  is the author of Hit the Ground. Her poetry has appeared in Disability Studies Quarterly, Wordgathering, Kaleidoscope, Last Leaves, The Score, Flying Island, and other magazines. She has work forthcoming in the anthology Beauty Is a Verb, vol 2., edited by Casmisha Jones, Mike Northen, Naomi Ortiz, and Travis Chi Wing Lau (Northwestern University Press, 2023). Whiteacre is an associate professor of English at the University of Indianapolis. She teaches creative writing and publishing and also advises Etchings Press, where she works with students to produce Etchings Literary and Fine Arts Magazine, judge the international Whirling Prize, and facilitate the UIndy Potluck Podcast series. Whiteacre received the 2020 Outstanding Teacher Award in the Shaheen College of Arts and Sciences and the 2020 Connecting Experience with Action Award. She is a 2022 recipient of a Center for Aging and Community (CAC) Fellowship and is spending two years working with Indiana's CICOA: Aging and In-Home Services to research how poetry can support wellness in aging adults.
Liz will teach the session "Double-Dog Dares" and is on the manuscript evaluation team.
Q&A with Liz
I love Liz Whiteacre's approach to writing as a collaborative experience as well something that is informed and enhanced by observing the world around us. This will enrich our lives, too! Try it, you might like it!
MWW: At MWW50 you'll be discussing collaborative writing prompts. Obviously I don't want you to give too many spoilers here (or type out the entire course) but can you tell me a little bit about the process there—does it vary from one project to the next, or are there specific strategies/best practices involved?
LW: When we don't have a plan for filling up the page, we can turn to other people for inspiration during our invention phase. We might already do this with writing prompt books, social media sites, or activities that we know directly connect to our writing. I think of these as cultivated exercises because we have an element of control—we've picked the diving board at a particular pool. Writing from prompts generated with writers is not only fun and helps us bond, but they also push us to approach what we want to write about (or didn't know we needed to write about) in new ways. When I write with a group and welcome spontaneous, unexpected prompts, I leave with drafts that surprise me. They often end up valuable to writing projects, because I'm writing from perspectives I probably wouldn't have thought of on my own and engaging language and form in new ways—it's not all about the end products that get published. The process is rewarding too. In the session, Double-Dog Dares, I'll facilitate prompts that ask writers of all genres to contribute elements, so we explore unpracticed ways to write, generate unpredictable material, and make friends (who just might help us meet our writing goals before MWW 2024).
MWW: I'm curious about your work in persona poems and what your students have learned about themselves and the world by writing through the eyes of another person. Can you tell me more about that?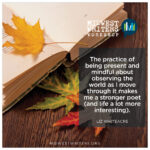 LW: Persona poems ask poets to write from the perspective and voice of someone or something outside of themselves (fiction writers and biographers do this too). You can give it a try today: set a timer for 5 minutes and tell me your flashlight's philosophy/opinions on how humans engage with the dark, using first person point of view and speaking from the voice of your flashlight in this monologue. Embody your flashlight. (I'd love to read your freewrite—post it on the MWW23 50th Conference Facebook page or stop by my July office hour.) Empathy, compassion, and new perspectives can be accessed through persona exercises (for example, in classes I ask students to flip the point of view of their break-up or family poem and write it from the perspective of the ex-lover or sibling. Often, the persona poem is a wonderful companion or offers the poet unforeseen revision options, adding tension and depth to the original). And, when we think about not only, say, what our great grandfather would think about digital assistants, but also use the language, diction, figurative language, and form appropriate to his voice (as well as we can remember it; this might take some research), so it sounds like great grandpa talking, we gain and strengthen literary tools, maturing our craft.
Recently, I combined being prompted by others and the persona poem. One project involves secondary research: I reviewed transcripts of teens who use wheelchairs transitioning to college and researched their disabilities. I also considered my own experiences with spinal injury, limited wheelchair use, and helping teens transition to college as an English professor. This process helped me make "informed imaginative leaps" (Thomas Nagel; Alexandra Horowitz) to create persona poems from the voice of 10 different characters. The other involves primary research: a composer asked me to write about their experiences with Temporal Lobe Epilepsy. I interviewed them and researched TLE, as well as received feedback from the composer, to create persona poems, six of which were composed into songs. If you'd like to read some samples of these persona poems and listen to Meadow Bridgham's "Seasons of Seizing: Six Poems on Temporal Lobe Epilepsy," visit https://lizwhiteacre.wordpress.com/selected-poems/. I have grown as a poet and person, exploring personas, and writing in voices and perspectives apart from my own. This diversity in practice and subject matter has also encouraged me to be more experimental writing about my life.
MWW: How do you know when a poem is forming in your mind—is there a certain sense that you've moved beyond a simple observation and into the writing sphere?
LW: Everyday, my attention is caught by images, sounds, gestures, tense moments, what people say, or something I read or watch. Some moments I think, that's something to appreciate, and I take photographs, share stories, jot things down, maybe make a social media post. I've made my Instagram @LizWhiteacre public, if you'd like to check out a way I challenge myself to note details through photographs. When I schedule time to write poems, I often start with a prompt and then shuffle through the things I've noted to leap towards something I hope to communicate in a poem. Some notables sit for years. Some find their ways into poems quickly. I feel the practice of being present and mindful about observing the world as I move through it makes me a stronger poet (and life a lot more interesting).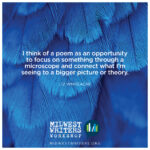 MWW: What do you think poetry does better than any other writing genre?
LW: I don't want to start fights here, MWW. I'm all about building community. I write poetry because it helps me pay closer attention to and better appreciate my world—a lot of stuff hasn't made it to the page, but the practice of noting makes my life richer. I think of a poem as an opportunity to focus on something through a microscope and connect what I'm seeing to a bigger picture or theory. I love the challenge to find language to help a reader picture and feel something specific, which helps me share my understanding of abstractions (like pain, love, tenacity) and gives a reader an opportunity to respond and share their experience. It's like seeing a photograph while hearing someone tell you the story behind it. I think writers learn something new about themselves and their subject while adding tools to their literary toolboxes when they focus and explore a moment.
MWW: Your turn! What question do you wish that someone would ask you about writing, but nobody has? Write it out and answer it!
LW: What are the most rewarding aspects of participating in writing conferences, you ask? We set writing goals, but it's easy to put off writing time for other responsibilities or stare at a blank page or get overwhelmed about how to achieve goals when we don't see progress. This can lead to unproductive periods, frustration, perhaps some guilt, and forgetfulness of what we gain from the process of writing and sharing, regardless of publication. Cultivating a writing community (like joining the MWW family in July) engages us as writers, readers, and literary citizens, which supports our writing practice. We learn to be writers by writing (a lot) and through apprenticeship. Writing conferences offer the opportunity to immerse ourselves and give focused attention to craft, business, and mentors. It takes a village, even though it can feel we're holed up alone with our words, and a conference reminds us that support and encouragement is there when we need it.
Stay tuned! We've got more Q&As with our all-star faculty members.
They will help you write your story!
Check out the In-person and Virtual Schedules
MWW is dedicated to building a community where writers can network with others and grow.