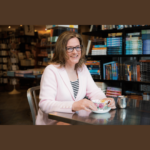 Lori Rader-Day is the Edgar® Award-nominated and Agatha, Anthony, and Mary Higgins Clark award-winning author of Death at Greenway, The Lucky One, Under a Dark Sky, The Day I Died, Little Pretty Things, and The Black Hour. She lives in Chicago, where she is co-chair of the mystery readers' festival Midwest Mystery Conference (fka Murder and Mayhem in Chicago) and served as 2019-2020 national president of Sisters in Crime. She teaches creative writing for Northwestern University's School of Professional Studies.
Lori will teach the sessions "Novel Writing for Blank-Page Beginners," and "Writing the White Whale," and participate in the panel "CONVERSATION BETWEEN TWO AUTHORS Kicking Down the Door: The Many Paths to a Publishing Career" with Jess Lourey. She's also on the manuscript evaluation team.
Q&A with Lori Rader-Day
Lori Rader-Day is near and dear to MWW"s collective heart for her consistent support and because we were the first writing event she ever attended–and look where she is now! Talk about a success story! She has important things to say to you about your own writing journey.
MWW: What elements of story need to be in place before starting work on a novel?
LRD: I need very little to get started, because I'm what we call in the biz a pantser—someone who writes by the seat of their pants. (I heard someone recently call this kind of process an "organic" style, which is very nice. But it feels right to call it "by the seat of my pants." It can be harrowing.) A few points on the map are what I need to get started, just enough to start a first scene and get a character walking around. It might mean I will revisit this scene later, once I know more, but I enjoy the discovery of the story as I write.

MWW: What's the most challenging part of writing characters that are entirely unlike you, perhaps from a different gender, age bracket, class, or race?
LRD: The challenge is to bring a character into the world who lives a life that would be recognizable to someone who *was* like that character. If you want to attempt this, and of course you do, you'd want to do some work to make sure you are making that character as much a realistic, feeling human as the character who might be more like yourself.
MWW: Talk about a difficult scene or moment you captured in your writing. What was challenging about it and how did you overcome it? How did you change as a writer when you did?
LRD: One time I devised an argument between two characters, but when I showed an early reader the book, she didn't understand why they were so mad at one another. I had been trying to wreck their tenuous friendship but was avoiding a plot point I had decided was too "expected." Once I realized I needed to include that scene, the book was so much better for it. Sometimes we talk about "tropes" of stories in such a disdainful way that we can scare beginning writers from playing with them. But sometimes stories move in a direction for a reason. Reader expectation is a big part of reader enjoyment, and who doesn't want to engage with that?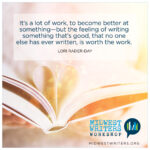 MWW: How has MWW figured in your writing career?
LRD: MWW was the first writer event I ever attended. I had no idea what I was doing, but I loved being in the community. I won an early career boost with the Largent Award and if I'd never gone to MWW, I have no idea what kind of writer I'd be, because it was at an MWW event that I discovered I was a mystery writer!
MWW: Your turn! What question do you wish that someone would ask you about writing, but nobody has? Write it out and answer it!
LRD: The question we don't get enough is… "How do I get better at writing?" Not "How do I get an agent?" or "How do I get published now that every agent in the world has rejected me?" I have had the question, but the trouble with that question is that the answer is so hard to give. You write. You write more. You write a story again. You keep learning. You keep showing up. You read and read and read and you take in stories that are successful, that made you feel, and you take apart stories that left you cold to find out why. It's a lot of work, to become better at something—but the feeling of writing something that's good, that no one else has ever written, is worth the work.
The first step? Find a generous writing community, like Midwest Writers Workshop.
Stay tuned! We've got more Q&As with our All-Star faculty members.
They will help you write your story!
MWW is dedicated to building a community where writers can network with others and grow.