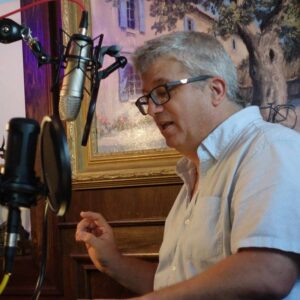 Lou Harry has written for more than 50 media outlets ranging from The Sondheim Review to This Old House and from Variety to Men's Health, picking up numerous awards along the way. His more than 40 books include Creative Block, Kid Culture, and The Little Book of Misquotations. He's also a produced playwright whose work has been staged by American Lives Theatre, Catalyst Productions, the Phoenix Theatre, and more. A native of Wildwood, NJ, his career has included editing stints at Philadelphia magazine, Indianapolis Monthly, and others. For twelve years, he was arts & entertainment editor for the Indianapolis Business Journal and has served on the executive committee of the American Theatre Critics Association while chairing its New Play Committee. By day, he serves as Quill Editor/Manager of Publications and Awards for the Society of Professional Journalists. Follow him on Twitter, on Post @LHarry, and on Facebook. And check out www.louharry.com
Lou will teach the session "Playwriting and What Every Writer Can Learn From It" and host Thursday evening's special event "Playing With Words." He is also on the manuscript evaluation team.
Q&A with Lou Harry
I'll be honest, I have not delved into Playwriting, but after this interview with Lou Harry, I'm going to. I love the layers and intricacy involved between writer, players, directors, audience. There's so much to balance and take into consideration (or not, as I learned), and his responses apply to writing of all kinds.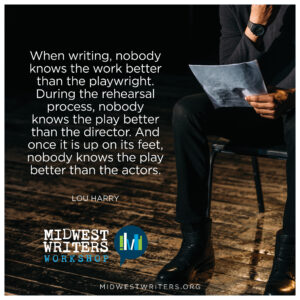 MWW: MWW has always encouraged writers to stretch their writing chops and try genres different than their own. Can you please discuss the ways studying the craft of playwriting can benefit writers of fiction, nonfiction, and poetry?
LH: Prose writers have, at their disposal, not only sight and sound but also touch, taste, smell and the thoughts of their characters or themselves. In theater, the writer is limited to sharing what can be seen and what can be heard (okay, there are creative exceptions, but you get the idea).
Focusing intensely on those two elements — what can be seen and what can be heard — can enhance your writing in any medium. Further, theater exists in real time. Rhythm becomes a key factor. And theater exists in front of an audience. Hearing and seeing the in-the-moment impact of what you've helped create can be a revelation. Finally — okay, not finally, there's so much more — theater is a collaborative art. The written play is the foundation but the end result can include elements you never dreamed of. That's one of the joys I've experienced in writing theater.
MWW: I imagine that actors take roles in different directions than you'd anticipated. How does their contribution to the work deepen your writing?
LH: That's one of the joys I mentioned above. Not only does an actor contribute to bringing a character and a story to life, but the relationship between actors in their characters impacts a work. I tend to hold developmental readings of my work over long periods of time, sometimes publicly and sometimes just in the living room, and it's always fascinating. I love learning from what they bring to a part and, often, using that experience to revise and further develop a piece. Even after the work has been given a full production, I often revise based on what I've learned from the exploration that the cast, director (sometimes myself), and the designers bring to the work. The reality in my experience is that, when writing, nobody knows the work better than the playwright. During the rehearsal process, nobody knows the play better than the director. And once it is up on its feet, nobody knows the play better than the actors.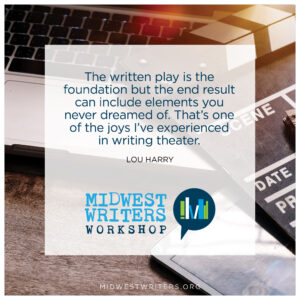 MWW: How do you process negative feedback from a reader? Does your reaction vary based on their relationship to you, whether they're family, friends, colleagues, random strangers…
LH: I try to listen, to understand where they are coming from and what they are experiencing, whether that is on the page or on the stage. I remind myself that they are being honest and not intending to hurt (at least, in most cases they aren't). And I try to give myself time to process. If someone asks me a question, I try to answer it. But if they make a comment, I do my best to resist immediately defending or explaining. Obviously something didn't communicate. I need to decide if that was a fault of mine or not and if it is something I think should be changed .. and if those changes can be made in a way that doesn't throw off something else. Of course, there are those whose opinions I trust more than others based on experience and past insight.·
MWW: What is a common misconception people have about playwriting?
LH: Very often a reviewer or other audience member will hold a playwright accountable for a choice made by the director, the designers, or the actors. There is also the assumption sometimes that a character is directly based on someone in the playwright's life. That may be the case sometime. But, for me, my characters may incorporate elements of various people who have been in my life but that is never a one-to-one equation. My mind is like the Play-Doh Fun Factory, where a mess of colors go into the machine and, when the crank is turned, the colors and blended and mashed together and reshaped into something different than what went in.
MWW: Your turn! What question do you wish that someone would ask you about writing, but nobody has? Write it out and answer it!
LH: How do you decide when a piece is ready to be shared with others?
That varies. Sometimes, I have just a piece of a play and I need to hear it with actors. That happened recently and two wonderful actors shared their time and talent exploring the work for a few hours with me. But you all have to be clear on where the piece is in the process. Years ago I asked some actors — some friends and at least one I barely knew — to read a piece of mine that was a mess. I wasn't clear with them on the developmental status of it — that I was taking a wild swing with it — and it ended up just being awkward and embarrassing. Since then, before a reading — casual or public — I ask myself what I am trying to get out of the reading. What am I looking for? I've been to readings by playwrights who seem to simply be looking for praise. That's not terribly helpful to anyone and not a great use of anyone's time.
Stay tuned! We've got more Q&As with our all-star faculty members.
They will help you write your story!
Check out the In-person and Virtual Schedules
EXCITING NEWS!
Midwest Writers Workshop will award a limited number of scholarships for participation in the IN-PERSON conference. Apply Here.
We're proud to present MWW50th Homecoming Day: Writing Matters, a FREE one-day writing event featuring workshops and panels with our alumni. Learn more and register here. 
MWW is dedicated to building a community where writers can network with others and grow.