Jane Friedman has 20 years of experience in the publishing industry, with expertise in business strategy for authors and publishers. She's the editor of The Hot Sheet, the essential industry newsletter for authors, and has previously worked for Writer's Digest and the Virginia Quarterly Review. In 2019, Jane was awarded Publishing Commentator of the Year by Digital Book World; her newsletter was awarded Media Outlet of the Year in 2020.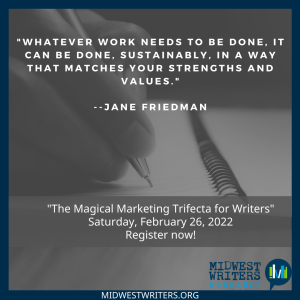 MWW presents this Jane Friedman course: Magical Marketing Trifecta for Writers, Saturday, February 26, 2022.
Morning Session (10:30 am – 12:00 pm EST); Afternoon Session (1:30 pm – 3:00 pm EST. Can't attend the sessions live? No problem. MWW is offering archival video access for three months to ALL registered attendees.
EARLY BIRD REGISTRATION ENDS 1/31! Register Now!
Most published authors have some kind of online presence, including a website and email newsletter or Facebook page, but they don't have a clue what it means to develop a cohesive, smart approach that integrates them all. For writers who want to see their online activity pay off, it requires some high-level and strategic thinking about who that writing is meant to reach and who you want to attract over the long term. This course with Jane will look at key strategies and principles for using your website, online writing (such as blogging), email, and social media in concert with each other to better reach and engage readers, both new and old.
MWW: We are thrilled to have another event with you! What's your connection to the Midwest and Midwest Writers Workshop?
JF: I began speaking at MWW in 2003, when I was an editor at Writer's Digest magazine in Cincinnati. My boss at the time told me I should reach out to MWW and offer my speaking services, which I thought was rather bold and aggressive—but it worked! MWW said yes.
I continued speaking at MWW for the next 15 years—I think you can say that we're a good fit. 🙂 I'm originally from Indiana and went to school in Muncie, so I have a lot of connections to the people and the place.
MWW: What's the number one thing you'd like participants to walk away with after attending The Magical Marketing Trifecta for Writers?
JF: A sense that whatever work needs to be done, it can be done, sustainably, in a way that matches your strengths and values. Marketing doesn't work unless you yourself believe in what you're doing. You don't have to follow the crowd or do it all or push yourself to do things you hate. While there are certain foundational steps and principles surrounding websites and email that I recommend, they are not out of reach for even the most busy, tech-averse writer. It's a serious of small steps, one after the other. And there's a wonderful feeling of satisfaction and accomplishment when you see the results of this work.
MWW: I often find incorrect or misleading advice out there for writers. What are some of the myths regarding the publishing industry's expectations on author platform?
JF: There are a lot of misleading messages about needing a huge social media following in order to land a book deal or how you have to be active on all these different social media sites, or you need to do live video, etc. There are no "musts" here. You do not have to become some kind of superstar or influencer on social for it to be effective. It's more about building relationships and connections with other people so you're not working in isolation. No one wants to launch a book all alone. You want support. And social media is wonderful at building that community of support.
MWW: In what ways do you see the publishing industry changing in the next five years, and what effect will this have on writers aspiring to publish their work and maintain an online presence?
JF: More than half of all book sales now happen online, mostly at Amazon, regardless of format. That shift is only going to become more pronounced in the future. As more people discover and buy books online, an online presence becomes more important for marketing and promotion. If you have no website, no email newsletter, no online presence whatsoever, you're making it much harder on yourself to spread the word about your book. Not impossible necessarily, just hard. The good news is that online tools offer both authors and publishers a wonderful amount of insight into who's buying your books and where to find more readers.
MWW: Aside from your own excellent website and classes, what sources would you recommend for reliable information on publishing and online presence, and what's the best way for writers to keep their finger on the pulse of what's happening in the industry?
JF: The Writer's Bridge is a good resource for platform building: https://thewritersbridge.com/
For industry updates, consider subscriptions to Publishers Weekly and/or Publishers Lunch. The Authors Guild and the Alliance of Independent Authors are wonderful organizations that also offer news, updates, and education on business topics and trends—for both members and non-members.
MWW: What's the platform advice you find yourself giving to writers most often?
JF: Be patient. These things take time. Don't abandon your efforts too early.
MWW: What are your favorite books to read?
JF: I love anything by Alain de Botton and The School of Life.
Join us and move forward with your writing goals!